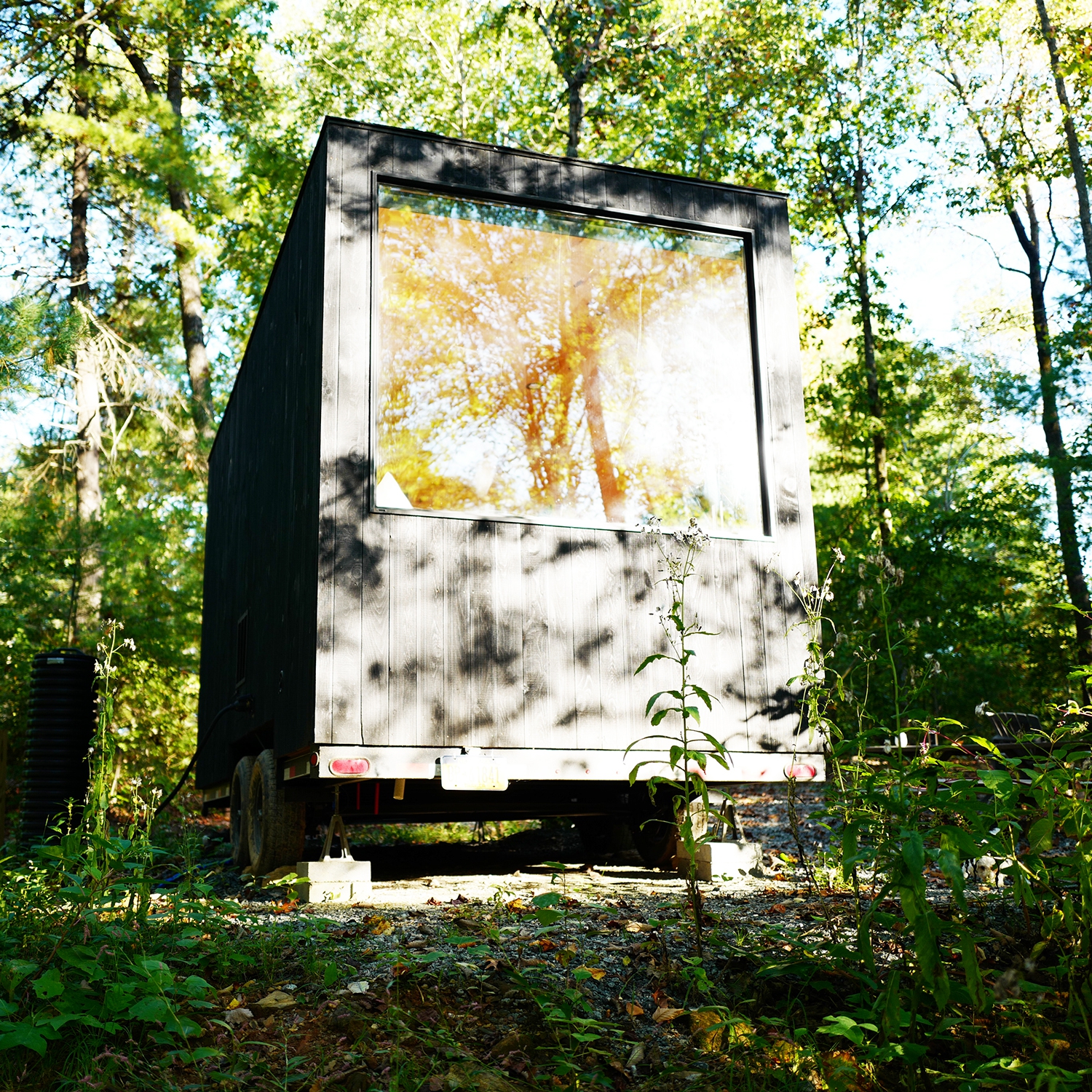 The Getaway in Shenandoah is a 20 acre plot of land with small cabins scattered about. The cabin (Getaway House) is a thoughtfully designed, cozy space, with all the essentials for a relaxing weekend in the woods.
I used to go camping with friends often when I was younger and hadn't thought about a mini adventure vacation in well over a decade - And then I saw the Getaway House on Instagram. I gotta say, Instagram is the perfect platform to advertise. If it wasn't for the GH ad, I wouldn't have found this little haven just two hours from DC.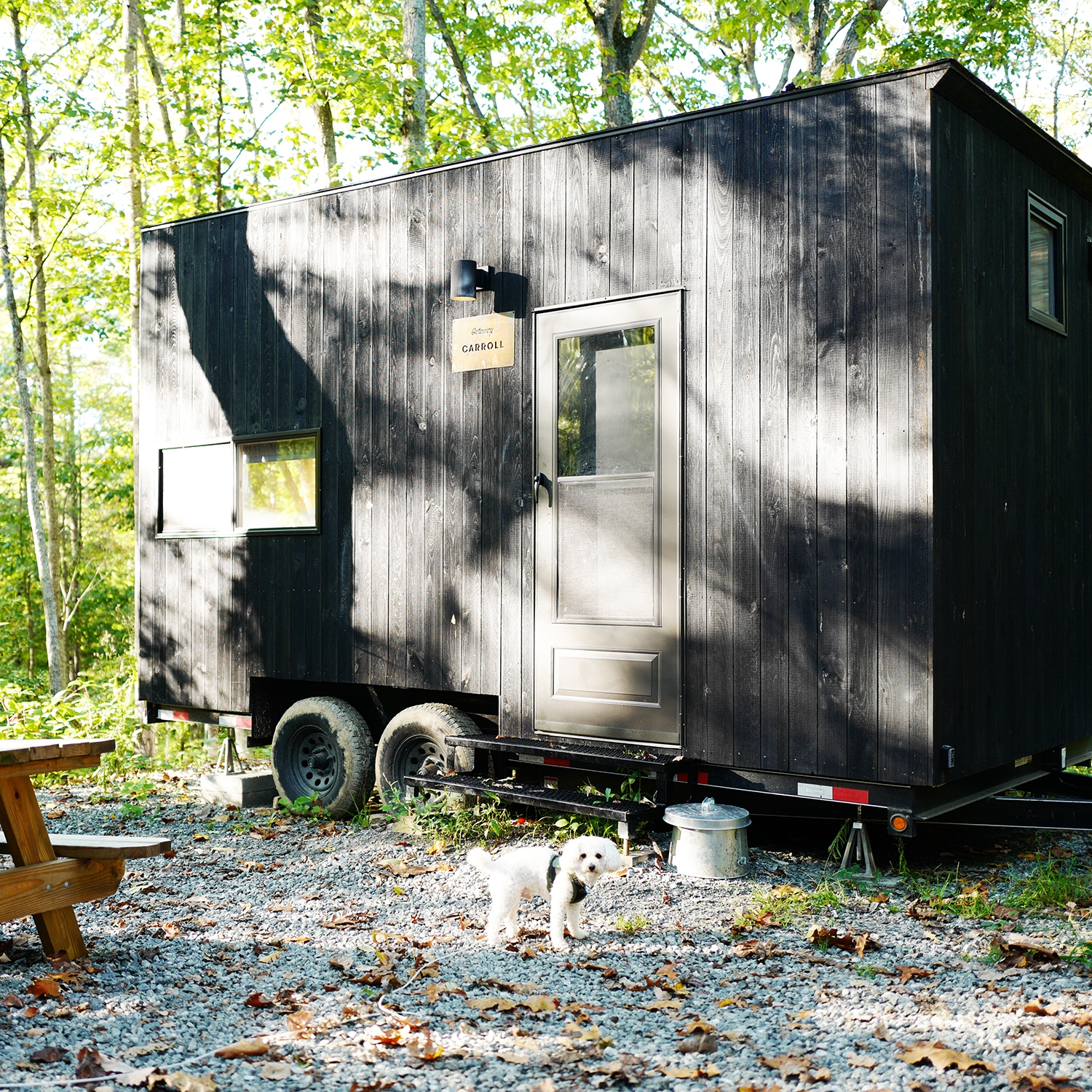 When we pulled into our personal camping space, we were excited about the setup AND we hadn't even seen inside the cabin yet. First step to the best camping trip is to pour a glass of wine or crack open a beer. Then I walked around the small site and took photos (for the blog).
When booking your Getaway House, you can include your dog for a small fee. Upon arrival we noticed there was a long leash attached to the picnic table. We attached it to Teddy's harness and let him roam. He's never been without a short leash and kept looking back to make sure it was ok for him to explore - so cute! The leash was just long enough for him to wander the perimeter of the site. This was a nice amenity for our little bear.
The Getaway House is perfect. A little smaller than I expected from online photos, but the innovative design is everything you need for a short getaway. There's a small table with a bench/step along one side and chair at the other. The bench doubles as a step to the elevated queen size bed. This bed was SO comfortable.
There's a small kitchen area, with a two burner stove, mini fridge, sink and shelf with provisions and dishes. The provisions are for purchase. Our host was kind and left s'mores for the adults and doggy s'mores for Teddy. There was also dog dishes. I appreciate the amenities for our Teddy Bear.
The bathroom is super small, but clean and has everything you need. You gotta squish by the toilet to close the door and get to the shower, but you are camping, so be happy you have a hot shower. On that note, I kinda drained the hot water, but it was replenished in less than an hour. The shower is tiny, but clean (very important) and featured Pharmacopia shampoo, conditioner and body wash. There's a fan in the bathroom and you can open the small window for ventilation.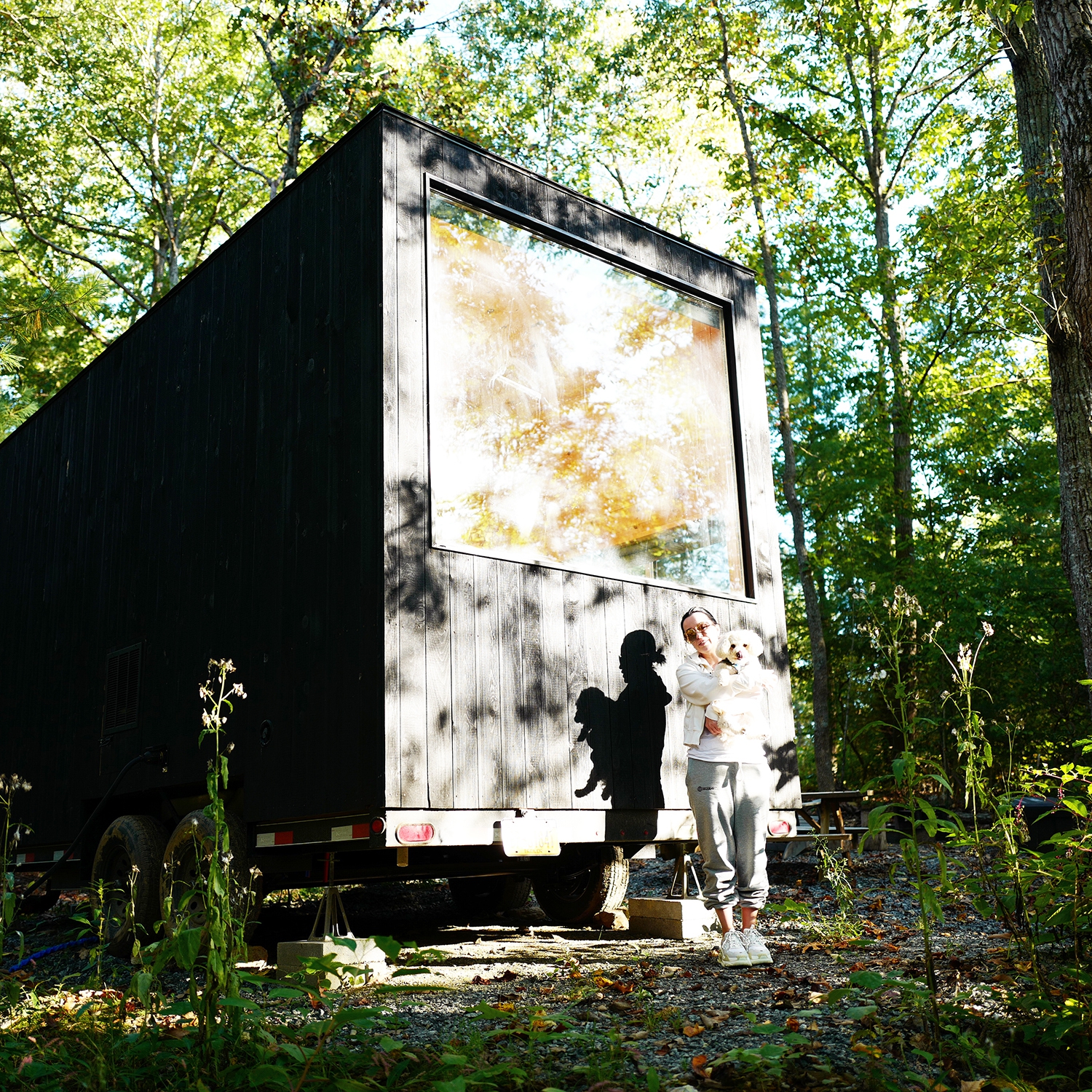 Our camping space was located on a small hill, so we were looking down in to the woods. The full-sized window located next to the bed and overlooking the woods was mine and Teddy's favorite feature. You can bring down the blinds at night for more privacy, but we opted for no window coverings, so we could see the sun come up.
I was hoping Teddy would see an animal, even a squirrel would do, but no luck this time. I read on Instagram that campers had deer outside their window - Which is nice, as long as you're inside!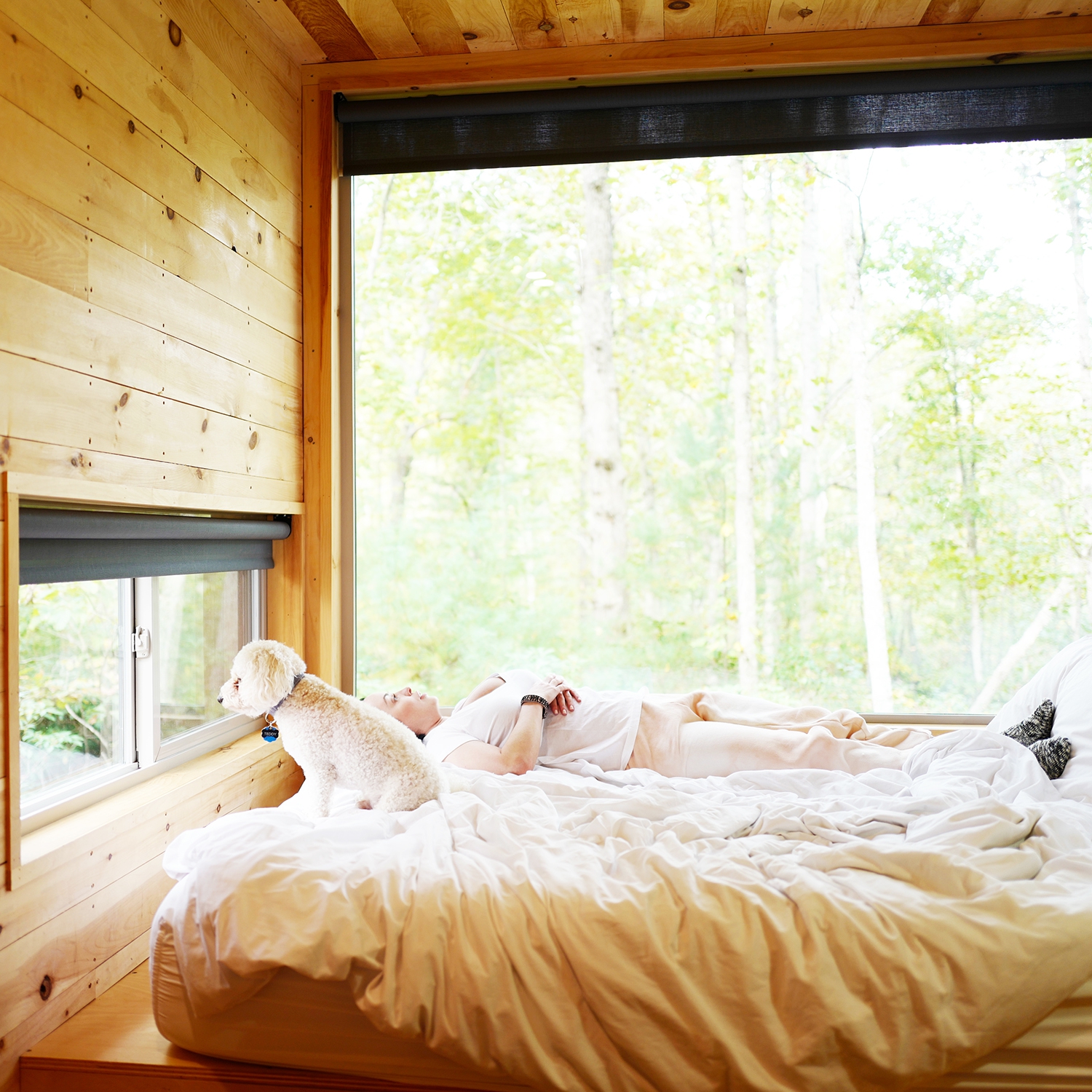 We only spent one night at the Getaway House and I was bummed that I didn't get lay by the window all day (check-out is at 11:00 am). Next time I "getaway", Imma lay there all afternoon and relax.
I was also terrified that I would look out the window at night and someone or thing would be looking back at me. It's beyond dark and a little scary. I refused to hang by the fire in the dark. I was nervous that we wouldn't see our attacker in time - AHS just started and takes place at a murderous camp in the 1980's.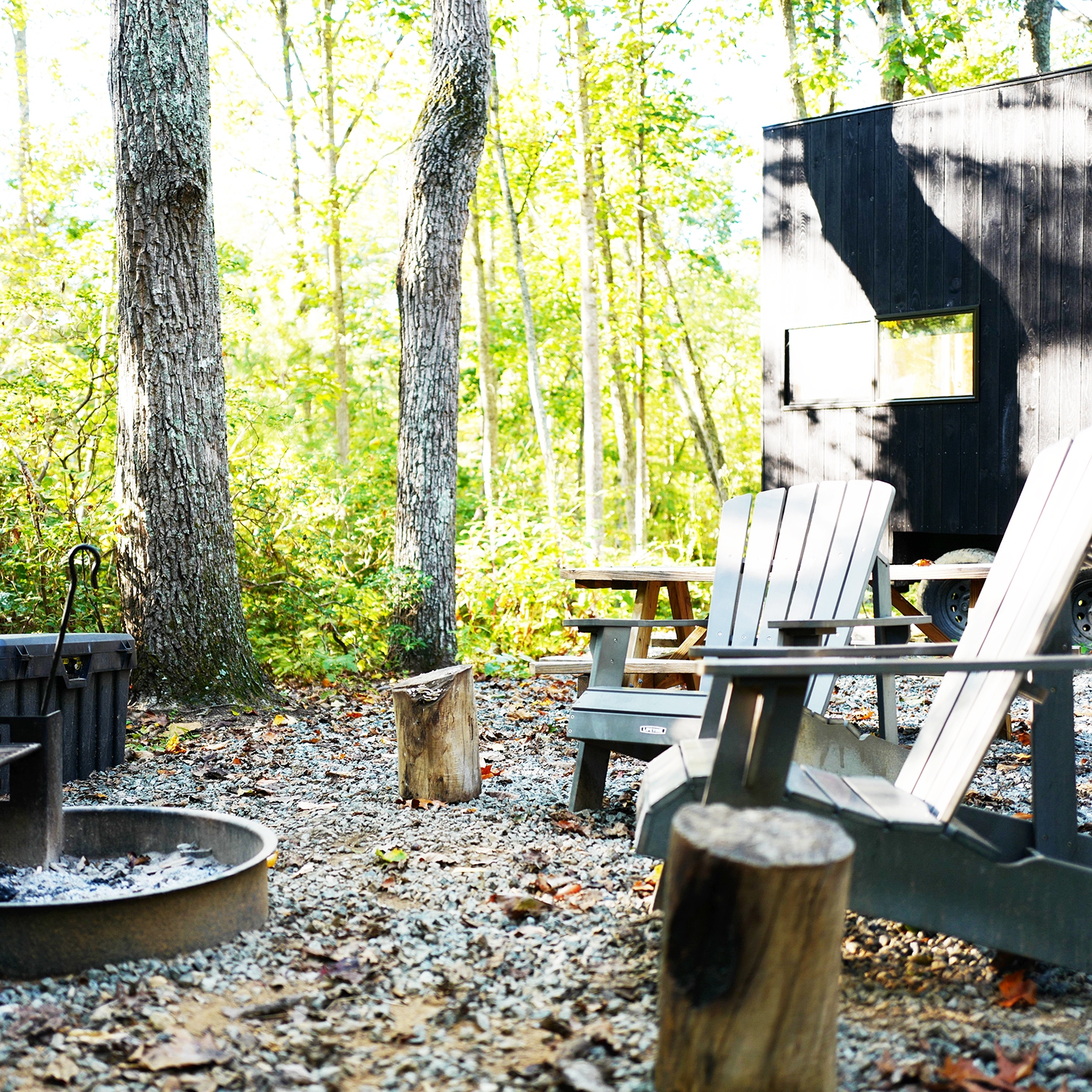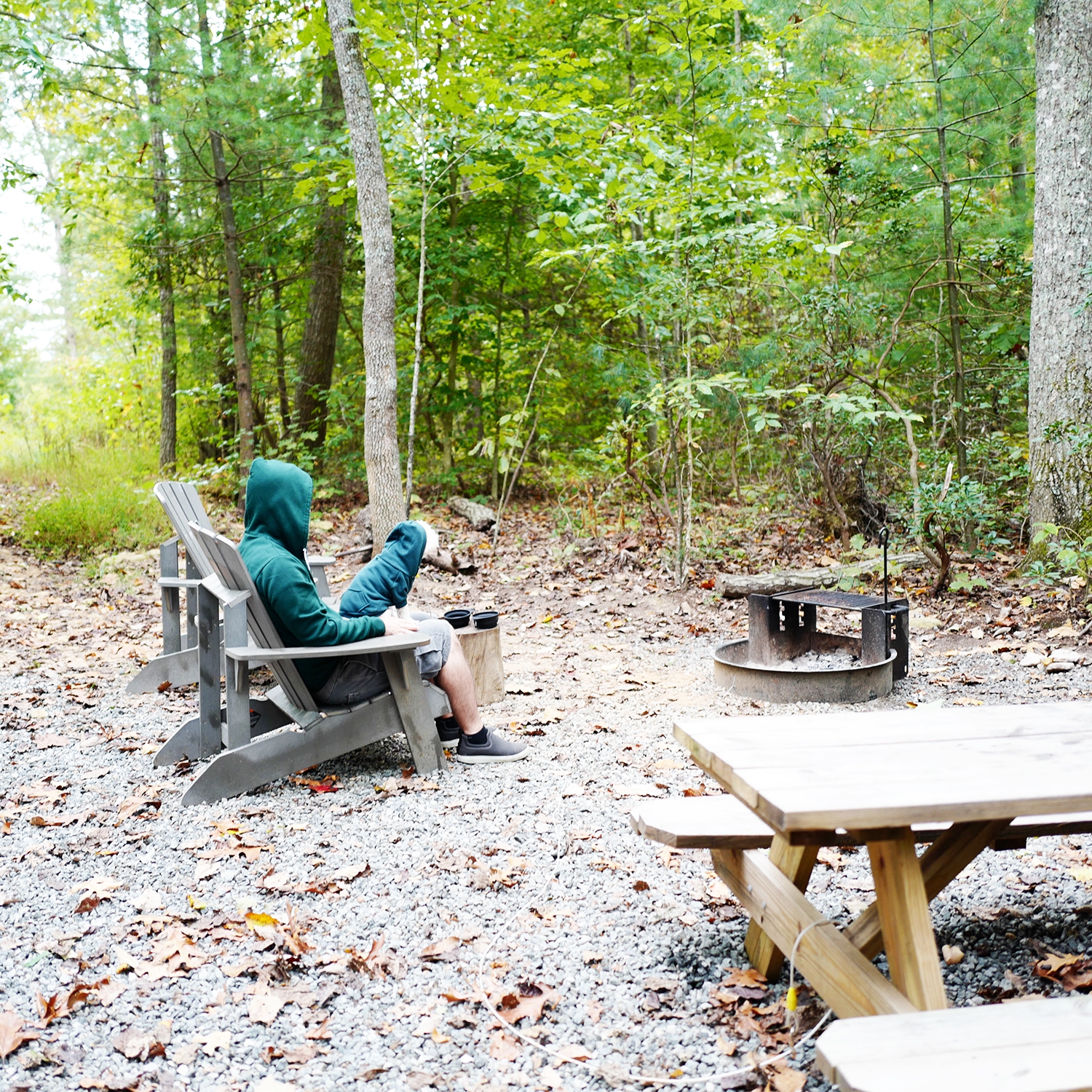 The small area surrounding the cabin is perfect. There's a picnic table, two Muskoka chairs, logs to place your beverage and a firepit and grill grate. There's also a container containing wood and a few startup logs. The wood is for purchase and all provisions will be charged to your credit card sometime later.
We started our fire late and didn't give it the attention required to heat up the grill grate. Our hamburgers took forever and weren't very good. Camping 101 and we botched it. The menu will be better next time and I'm definitely going with hotdogs on the grill - They're super easy.
We camped in October and it was really cold in the morning. This would be a great time to get the fire going. Next time we're gonna start the fire in the am and relax by the flames during the day. We'll probably retire early and unwind in the cozy bed when it gets dark.
There are many things to do in the area, but we just wanna relax. Maybe next time, we'll take a stroll through the outpost, but I'm not the adventurous type, so there will be minimal activity.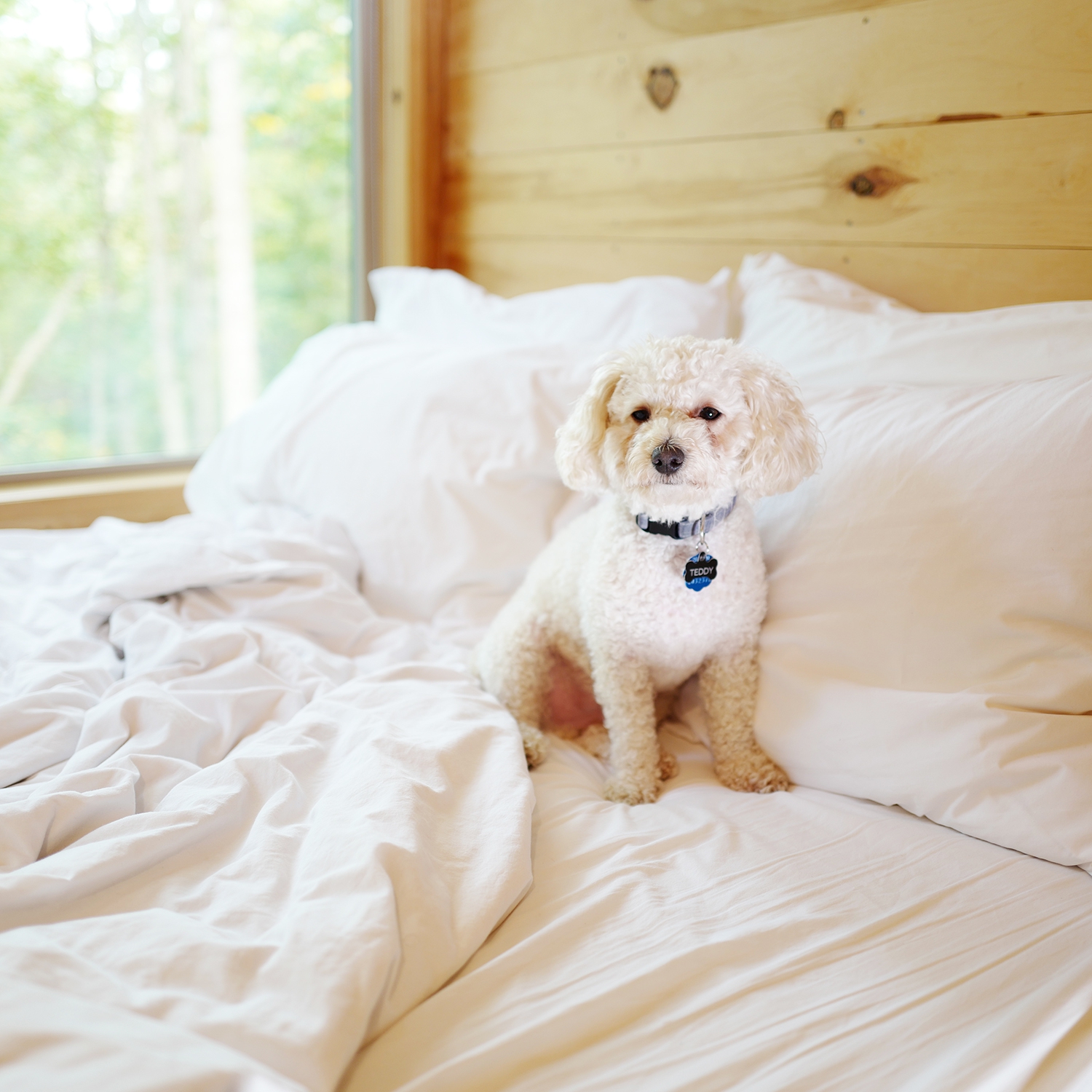 Teddy had the best time. This dog is living his best life - always in the car, going on trips and being spoiled the entire time. I pre-made bacon, scrambled eggs and chicken for him. Spoiled!
He laid horizontal across the bed and my husband laid diagonal - I had the worst sleep squished between them. AND Teddy didn't wanna get out of the bed in the morning. He's a lazy camper.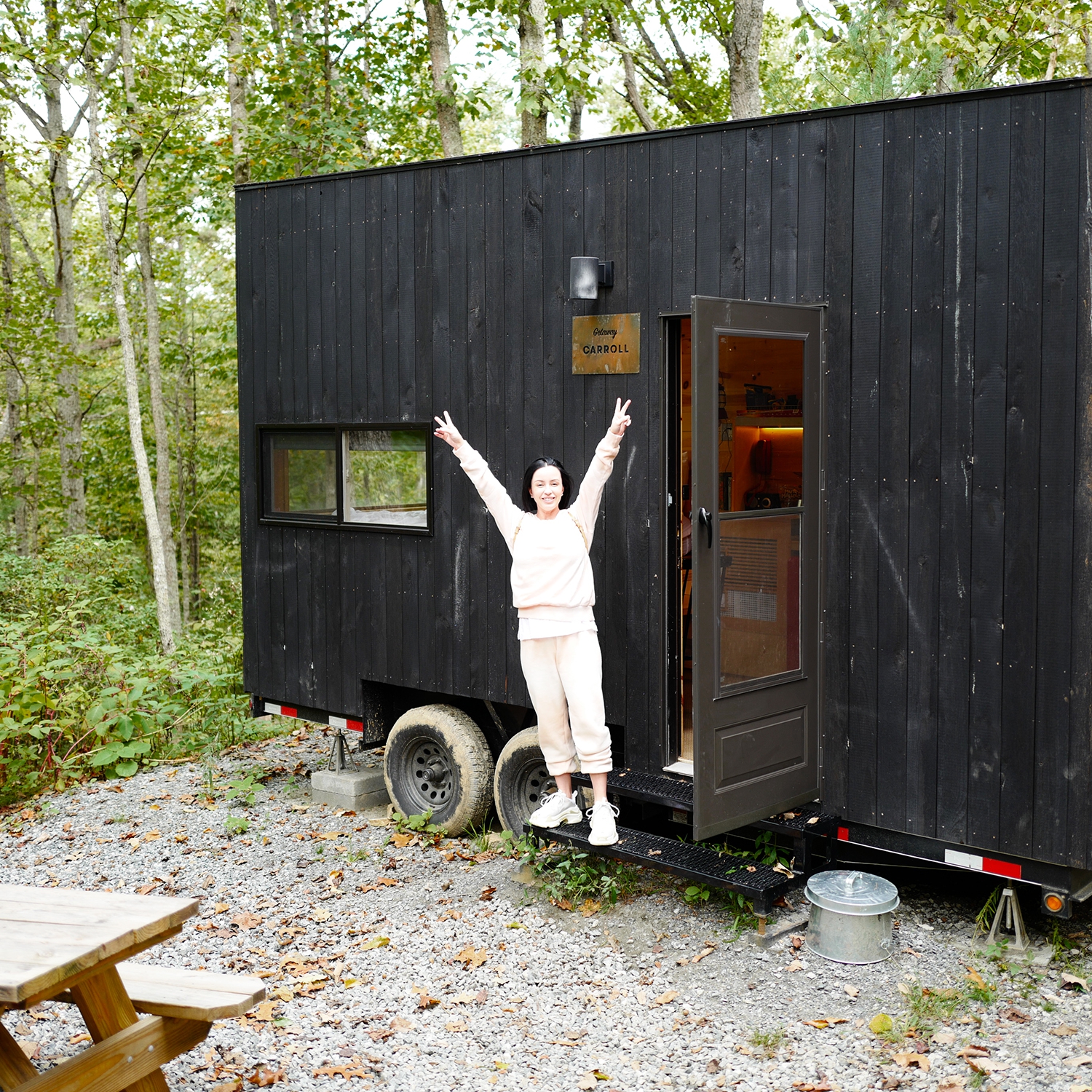 We stayed at the Getaway House for one night to see if we'd like it AND we're obsessed. We've already booked more weekends. It's camping in a small, rustic cabin and is the perfect mini vacation. You can sit by the fire and eat at the picnic table or cook inside and enjoy the view. I'm branding this vacation in the wilderness "glamping".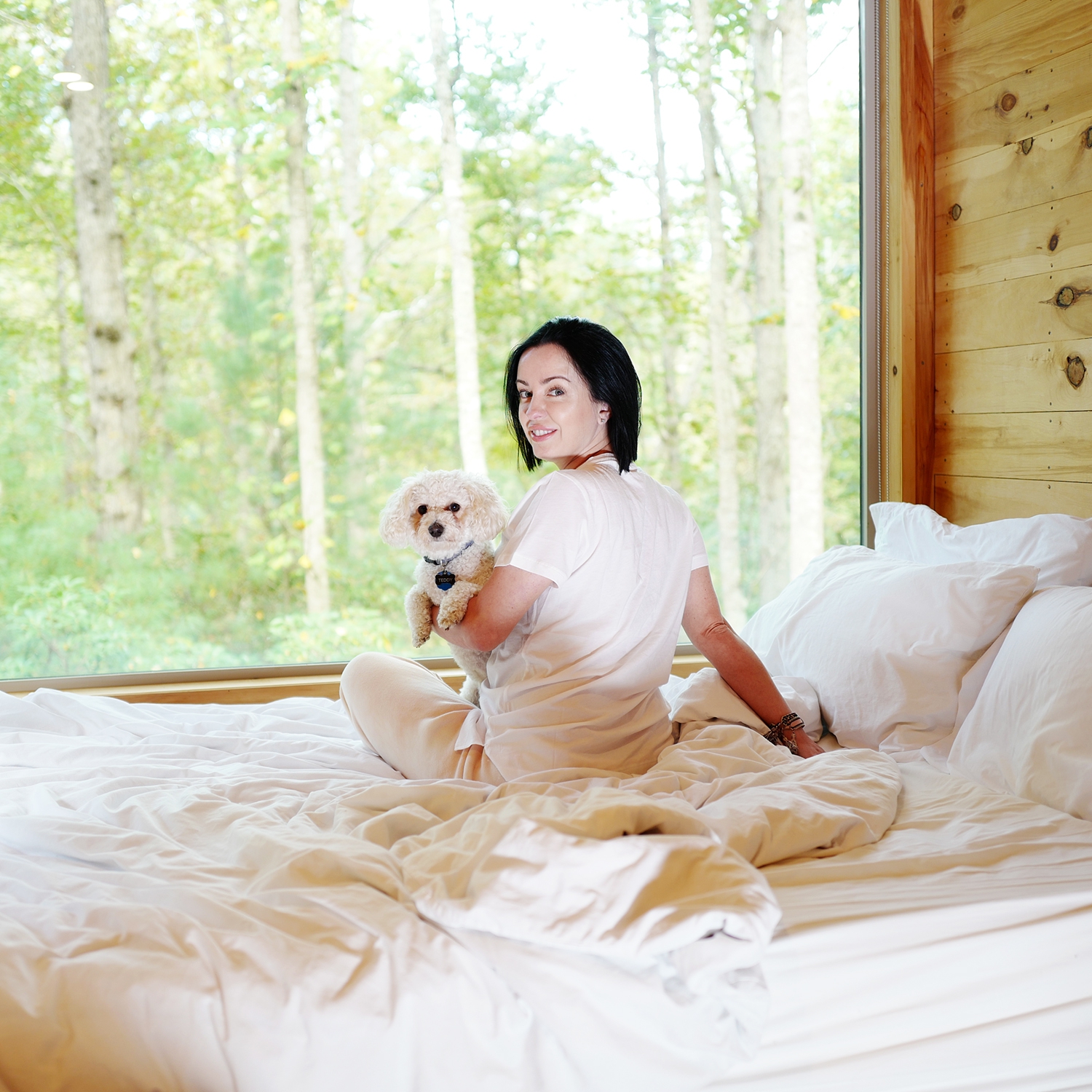 This innovative camping style is brilliant. Just two hours from the city and you're sleeping in a tiny, simple cabin in the woods. It's perfect for people who just want to relax.
Too often we (you're also guilty) miss out on amazing experiences, cause we're on our phone or trying to "capture" the moment. I recommend you shut off your phone and place it in the cell phone lockbox. Get out your camera and take photos the "old fashion" way. Embrace the peace and quiet, cause soon you'll be back at work and counting down the days till your next getaway.