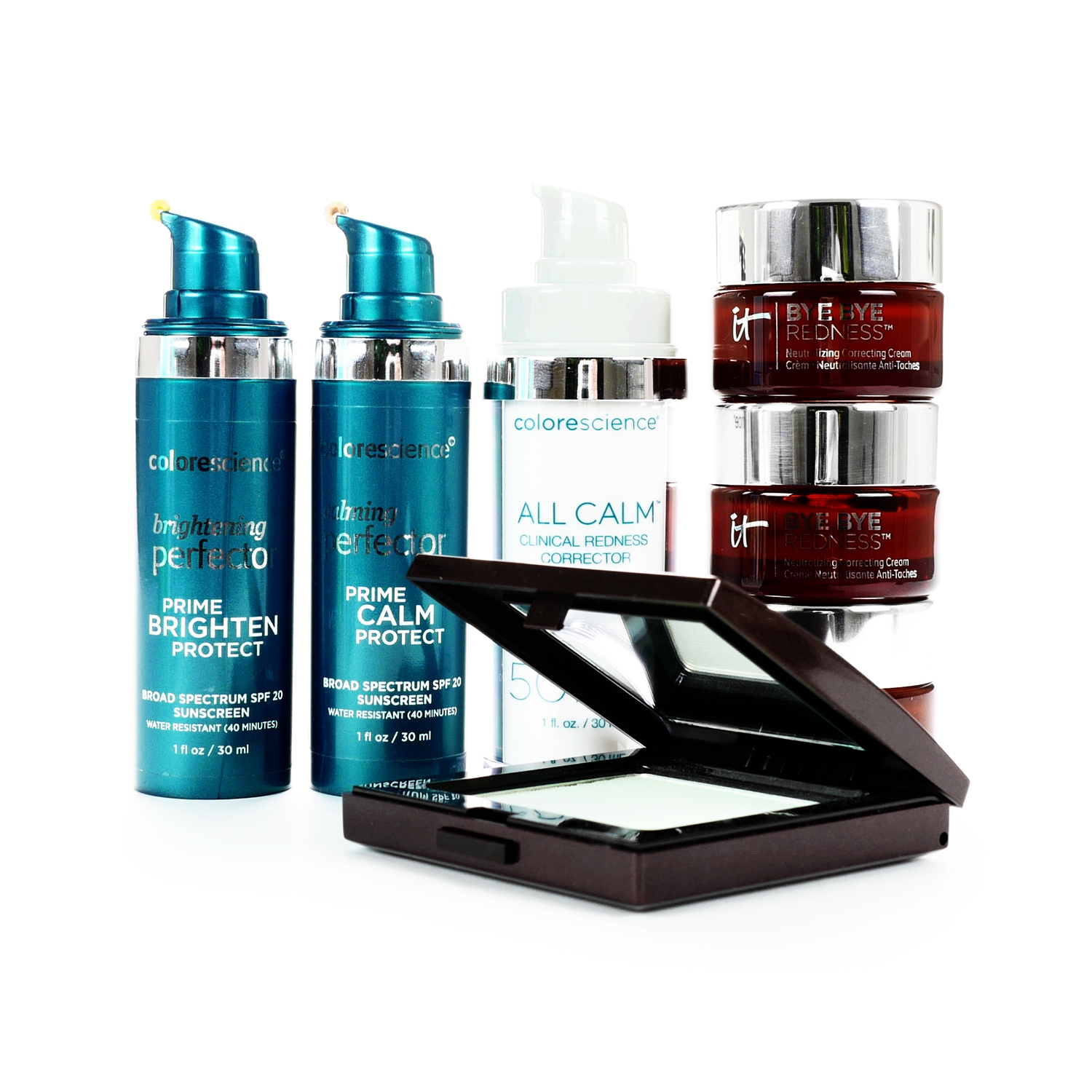 This one goes out to all of you suffering from angry red face! Whatever the cause, Rosacea is hard to manage and flare-ups can be unpredictable. I use three topical medications and a variety of facial serums, but my irritable skin flares up on the daily.
Yeah, you're should avoid food, beverages, products snd environments that trigger a flushed face, BUT that would leave you miserable. Spicy food, cheese and wine are three of my favorite things to eat and drink AND I refuse to give them up in an effort to combat my flushed skin. Stress is also a huge factor, but that one's unavoidable.
I do however have a lineup of anti-redness products to mask the "I've had too much wine" look. These redness correctors will change your life..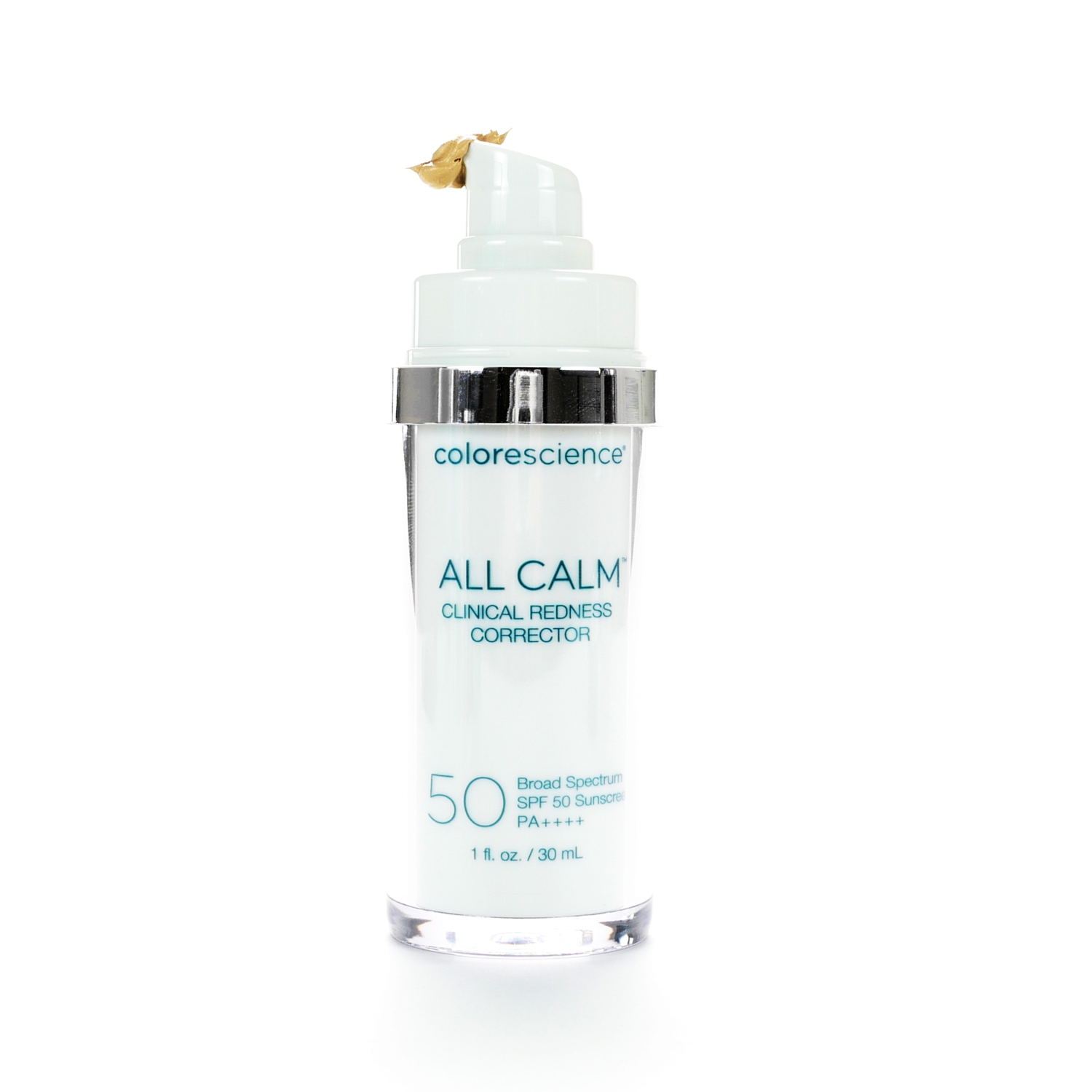 Many dermatologist stock Colorescience products - that's sayin' something about this better skin brand. All of the products have SPF to combat skincare battles as a result of sun exposure, before they start. Colorescience All Calm provides SPF 50 sun protection. LOVE that!
Colorescience All Calm Clinical Redness Corrector is a new product in my skincare lineup. The primer-like product calms your skin while combatting redness. It has a similar texture to Colorescience Perfectors - a silky, thick facial product that glides on nicely and neutralizes your skin tone. It is however only available in one shade that may be light on tanned skin or darker skin tones.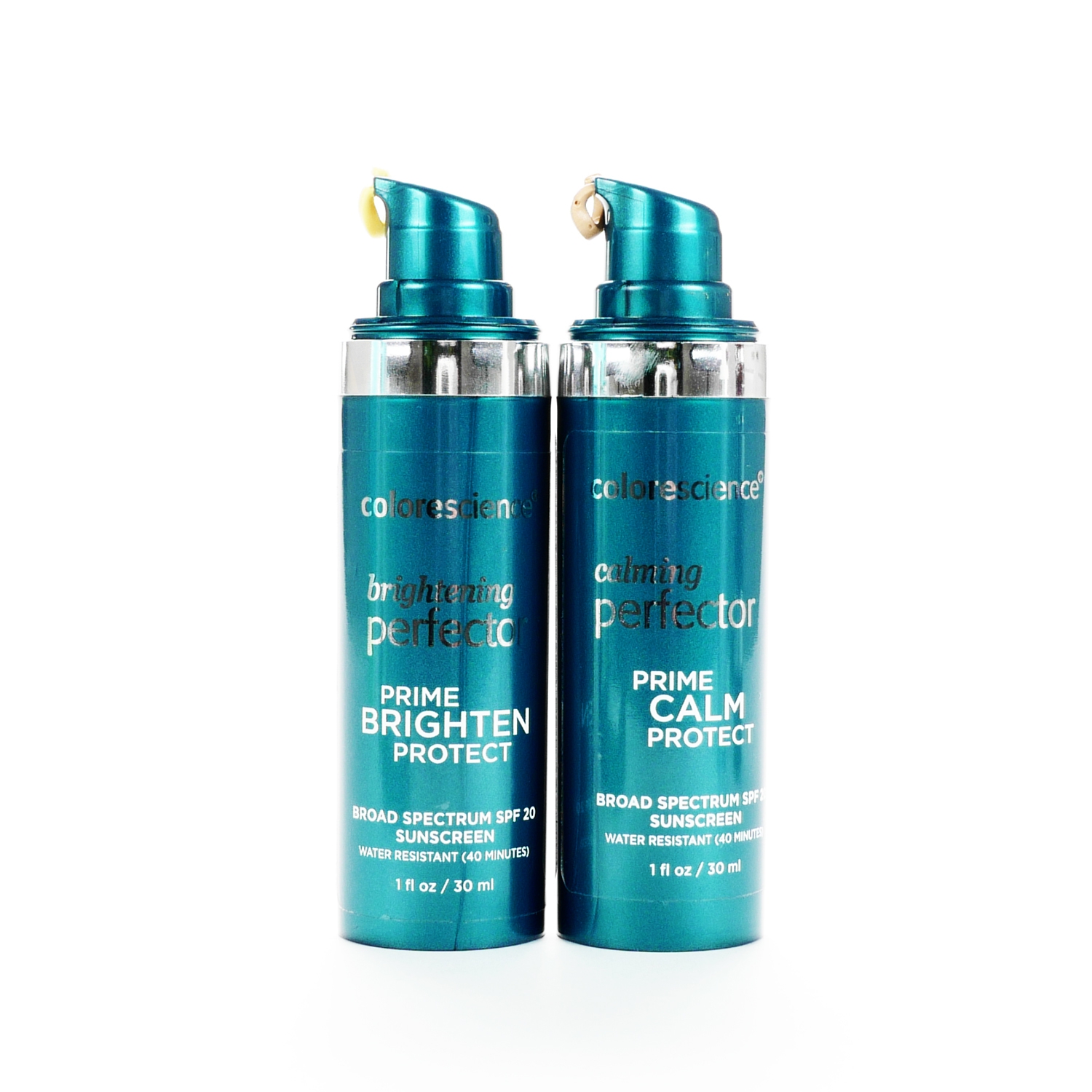 I have been using Colorescience products since 2014 and while I've updated my go-to product list many times over the years, Colorescience Perfectors are still at the top.
These primers give you a natural, even tone, leaving no trace of caked on makeup (like foundation often appears). These perfectors blend perfectly (hence the name I suppose), minimize the look of your pores, blur wrinkles, and enhances your complexion. The natural result is far better than using foundation. People often compliment my skin and asked what foundation I wear - I don't!
The texture is soft and silky. It is a bit thick, but when applied over a nourished face, neck and décolletage, it absorbs quickly and enhances your skin dramatically.
I use the Calming Perfector during cold seasons and blend it with Bronzing Perfector during the summer for a sun kissed look. The Brightening Perfector is great for combatting redness and illuminating your skin. Don't be afraid of the pale yellow tone - it will transform your skin and brighten your complexion. I promise.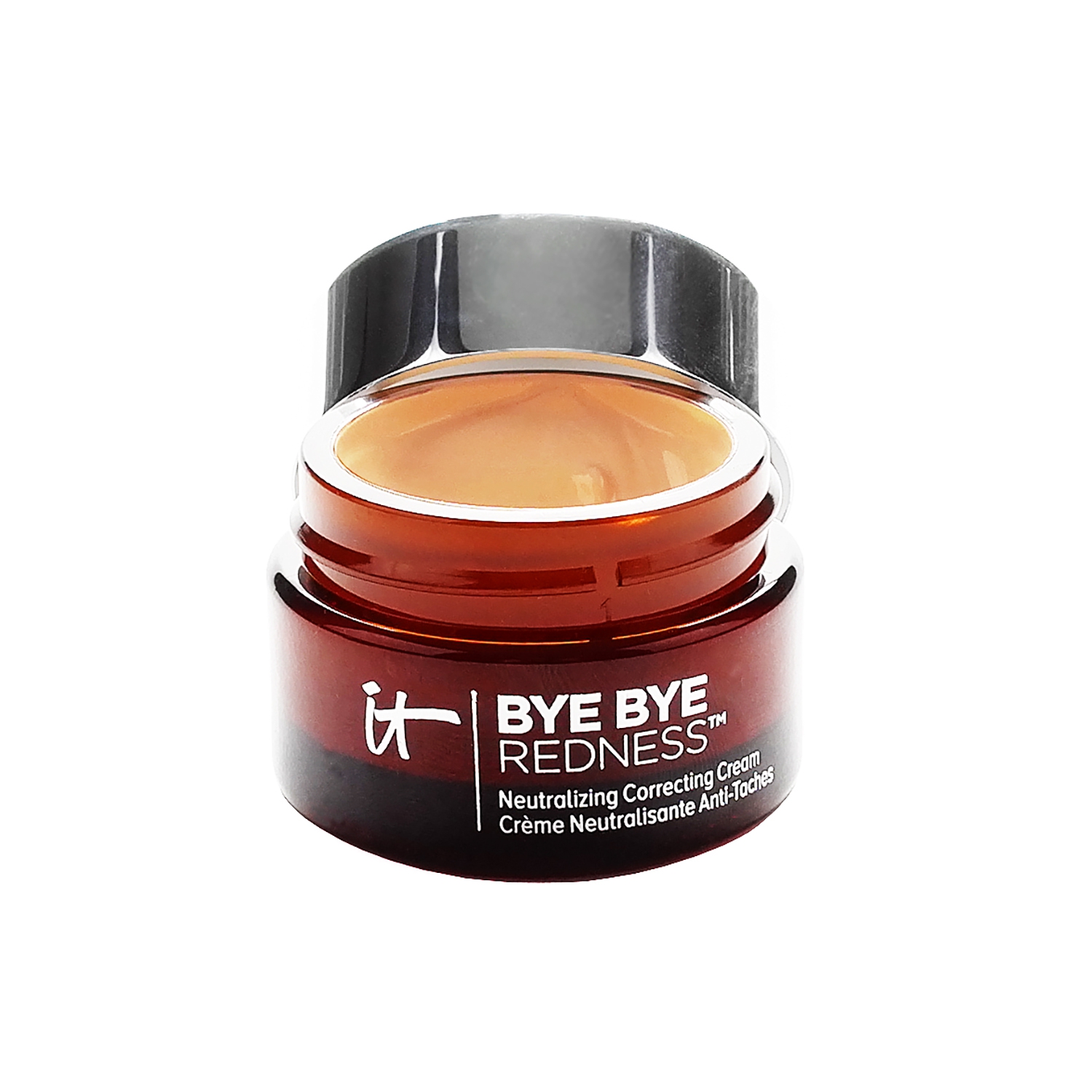 I have 'officially' (nothing I declare is really official) branded It Cosmetics Bye Bye Redness Color-Correcting cream the 'anti-redness warpaint'. If you have Rosacea or hyper pigmentation, you need this.
Bye Bye Redness is the ultimate anti-redness product. It's kinda like a foundation, primer and cream in one. It is thick, has a silky texture and gives you super full-coverage. This product is smooth, goes on like a primer (similar to Colorscience primers), has a green tint (to mask redness) and gives you a matte finish.
Apply to your cheeks, nose and forehead and blend outwards. A little goes a long way. Beware - this stuff will stain your clothes, so be careful when applying.
Bye Bye Redness Color-Correcting cream is available in three shades - Transforming Porcelain Beige, Transforming Neutral Beige and Transforming Light Beige. If you can't decide what shade to purchase, go with the neutral.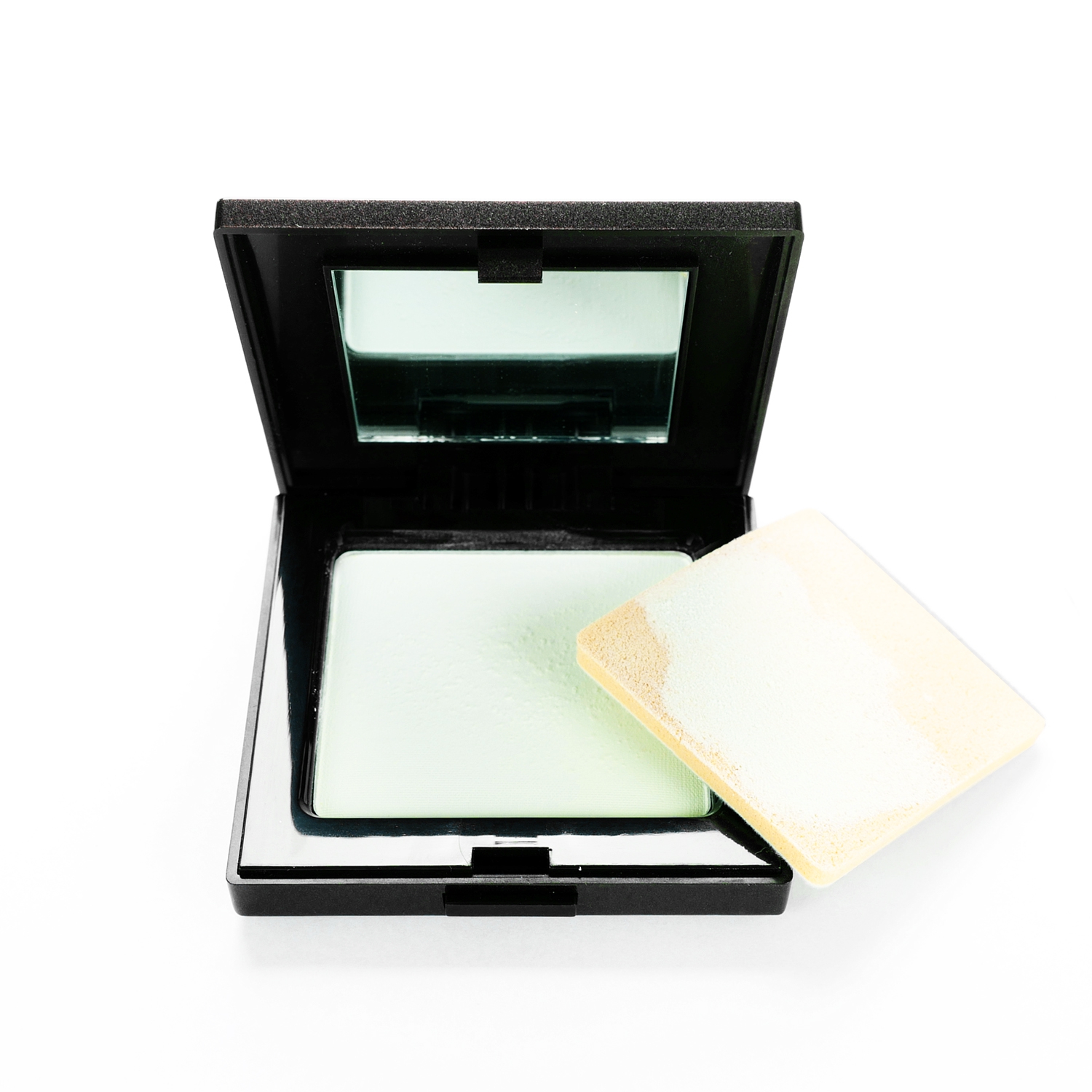 The mint green tint of Laura Mercier Shine Control Pressed Setting Powder tones down redness. The 'Shine Control Complex' gives you a shine-free, fresh, matte finish - a much-needed addition to my cosmetic bag for on-the-go touchups.
I wouldn't recommend this translucent powder for tanned or darker skin tones. Apply this powder to combat redness and reduce shine - it's not an all-over powder.