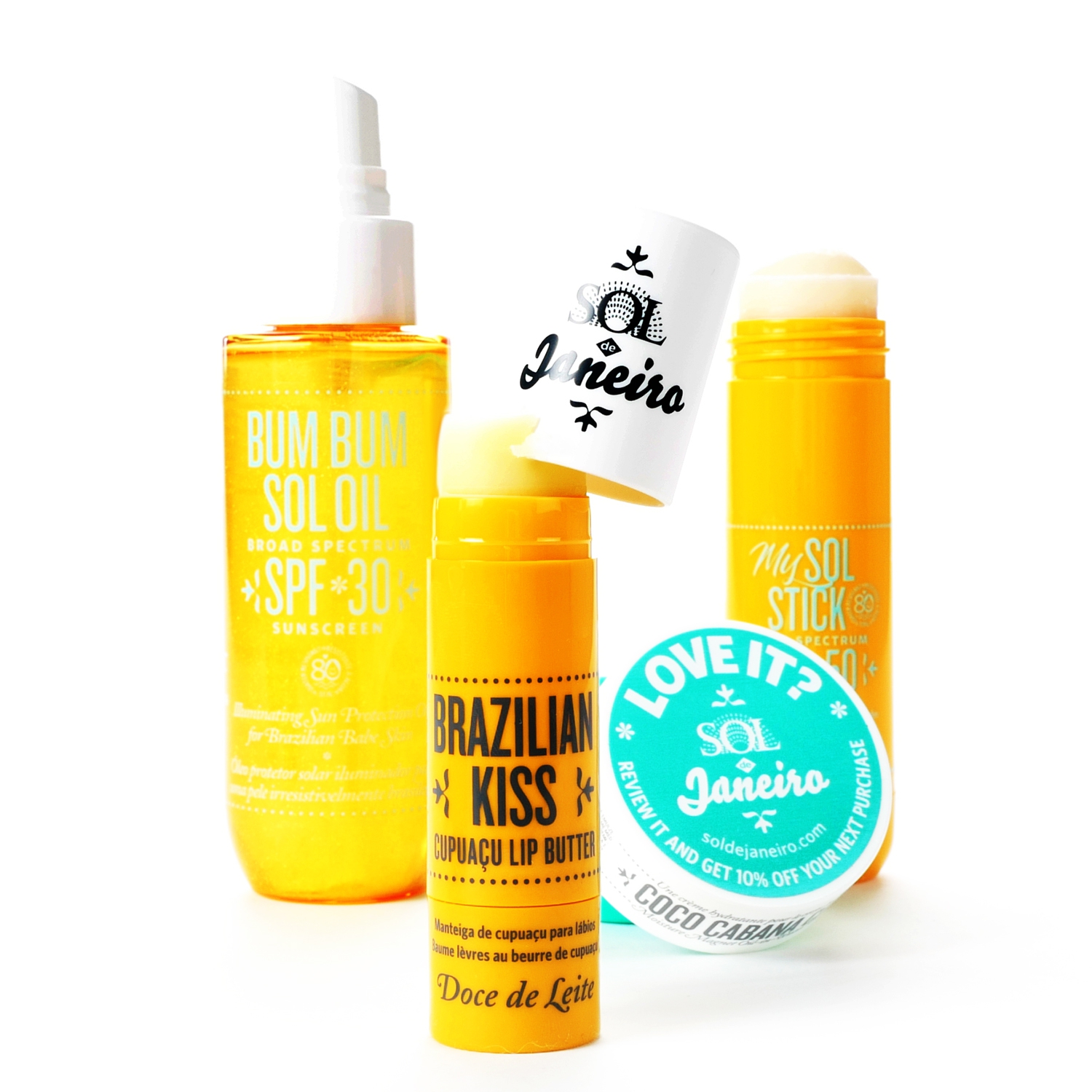 Sol De Janeiro is one of my favorite beauty brands. The pistachio-caramel scent of Sol de Janeiro Brazilian Bum Bum Cream (not pictured here) is AMAZING! This deliciously scented product line is addictive. You're gonna want to surround yourself with these scents.
Sol de Janeiro Brazilian Kiss Cupuacu Lip Butter is one of my favorite lip balms. The light, creamy texture is nourishing and the tube is BIG, so it will last a long time. This lip balm is infused with super nourishing ingredients Cupaçu butter, Açai and coconut oil. A MUST-HAVE!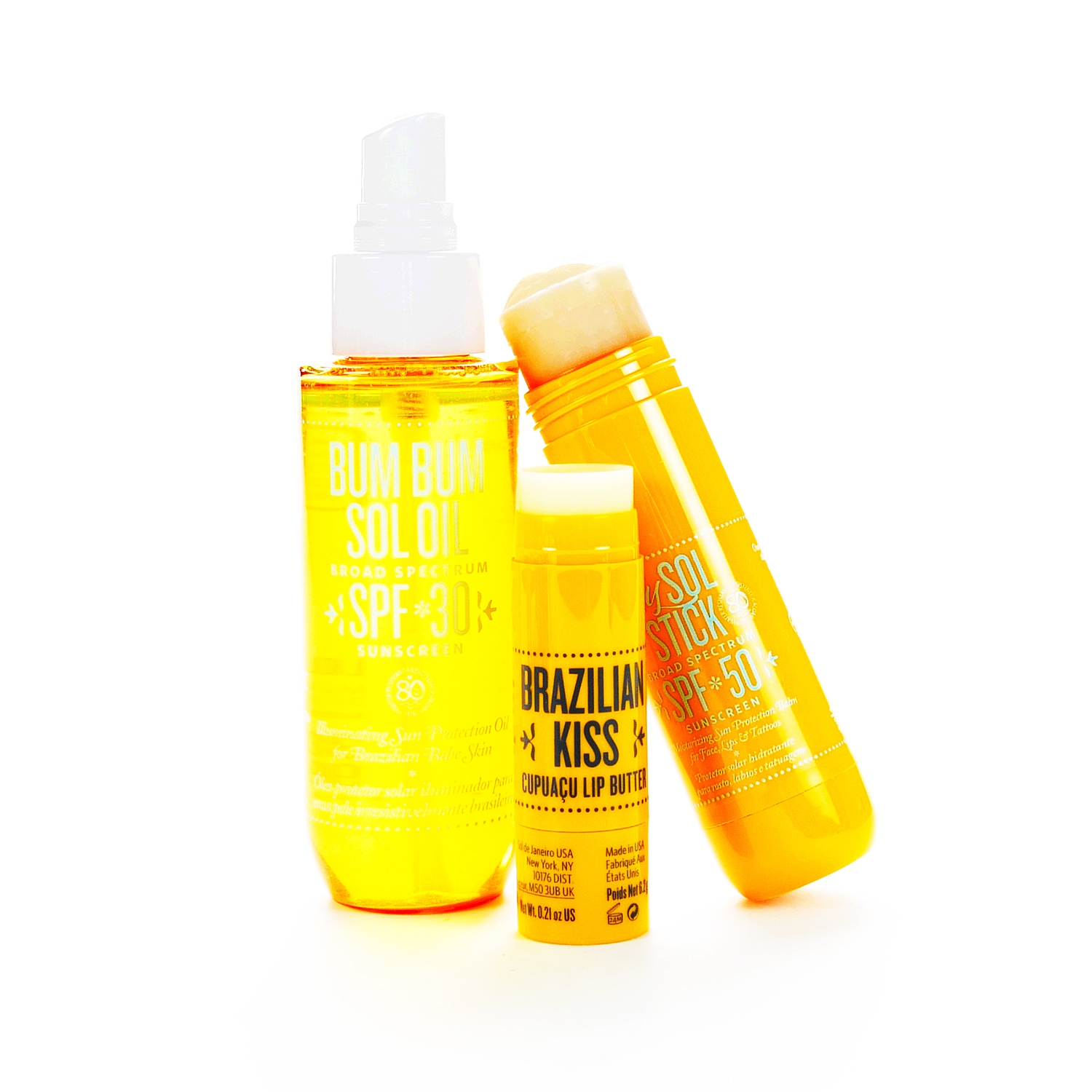 Of course I purchased the new Sol De Janeiro sunscreen products the second they hit the shelf! The Sol De Janeiro My Sol Stick is an 80 min water resistant moisturizing protection balm. This on-the-go balm stick is great for extra protection in sensitive areas - Apply to your face, lips, bikini line and tattoos.
My Sol Stick has a wax-like texture and you can feel there is a layer of protection on your skin. The balm is SPF 50 and has a delightful, sweet, nutty scent. I hope Sol De Janeiro launches a new body mist in this scent. AND, it's slightly larger than the lip balm, so it fits in your handbag for touch-and-go application.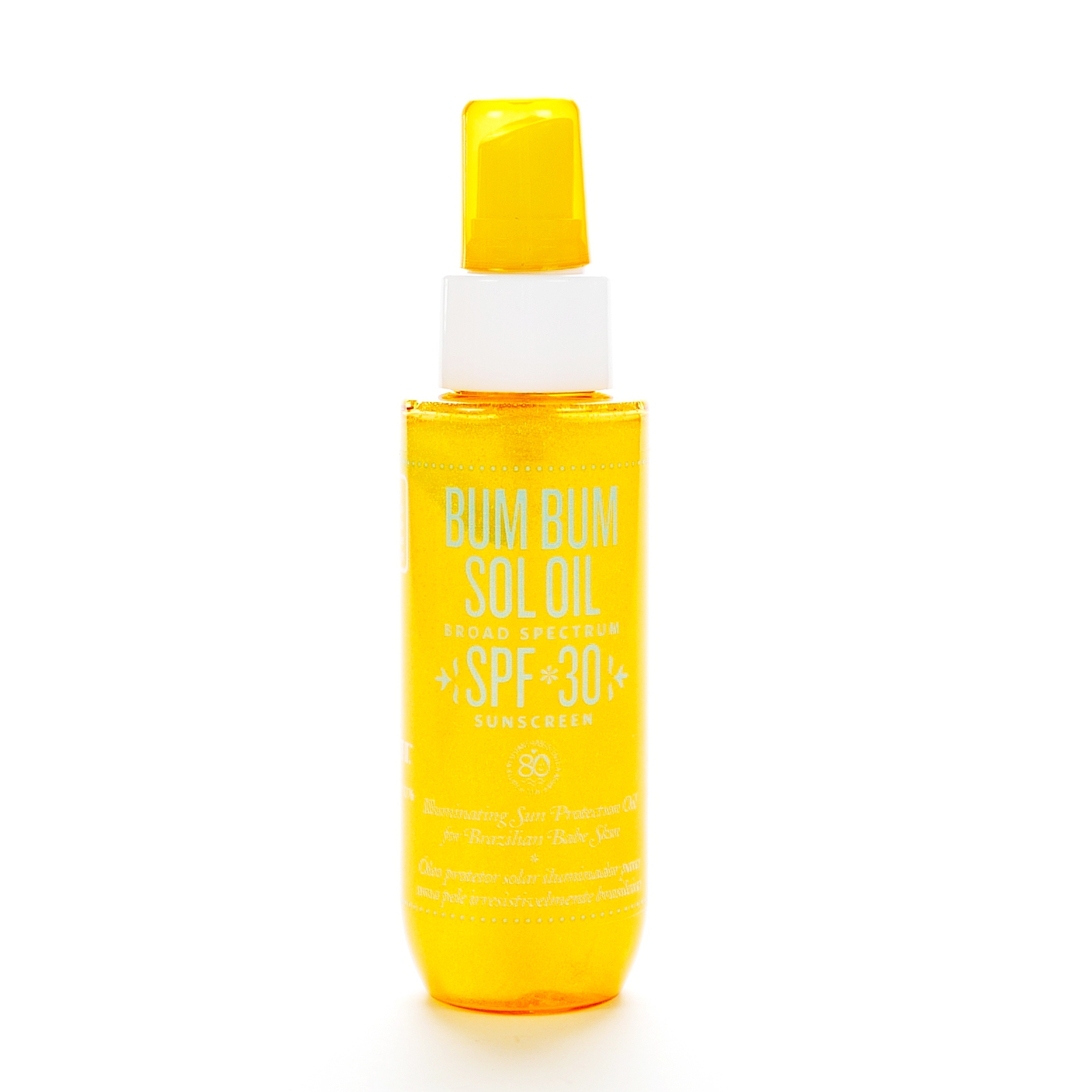 The Sol De Janeiro Bum Bum Sol Oil has the same addictive pistachio-caramel scent of Sol de Janeiro Brazilian Bum Bum Cream. Everyone who comes close to me asks what perfume I'm wearing and it's Sol De Janeiro body products.
The Bum Bum Sol Oil is a sun protection oil is infused with skin smoothers an luminizers. The oil is SPF 30, non-greasy and gives your skin a subtle glow. The product goes on nicely and has a slight oily texture that dissipates quickly. It's a two-in-one perfume and sunscreen.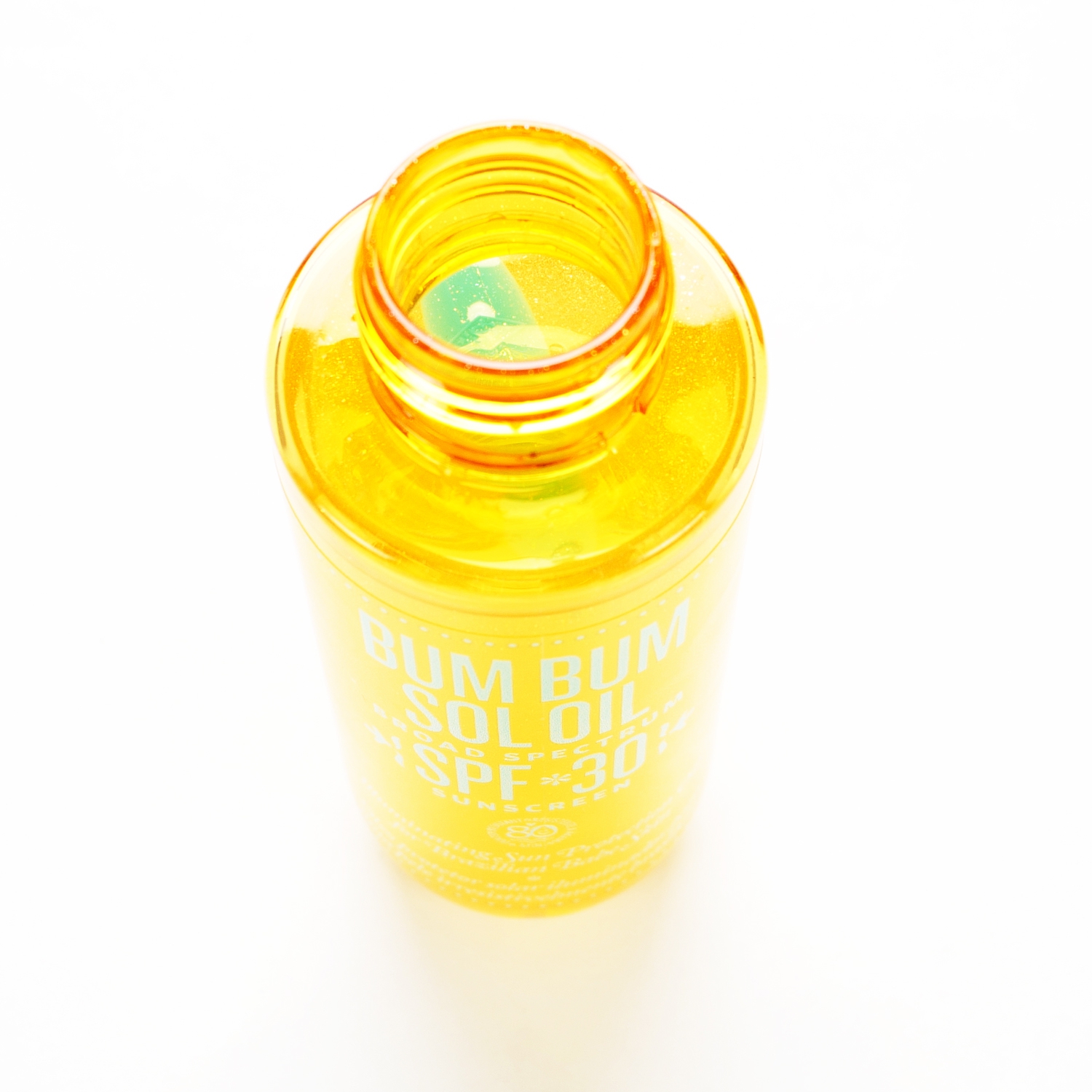 You can see the micro sparkles in the oil and there is a little leaf floating in there - I think it's a faux-leaf for appeal. The bottle is small and great for on-the-go spritzes and travel.
The luscious scent of Sol De Janeiro Bum Bum cream and Sol Oil is referred to as Cheirosa '62 Brazilian Bum Bum Scent. It is comprised of pistachio, almond, heliotrope, jasmine petals, vanilla, salted caramel and sandalwood. It's sweet, delicious and intriguing. This combination is brilliant!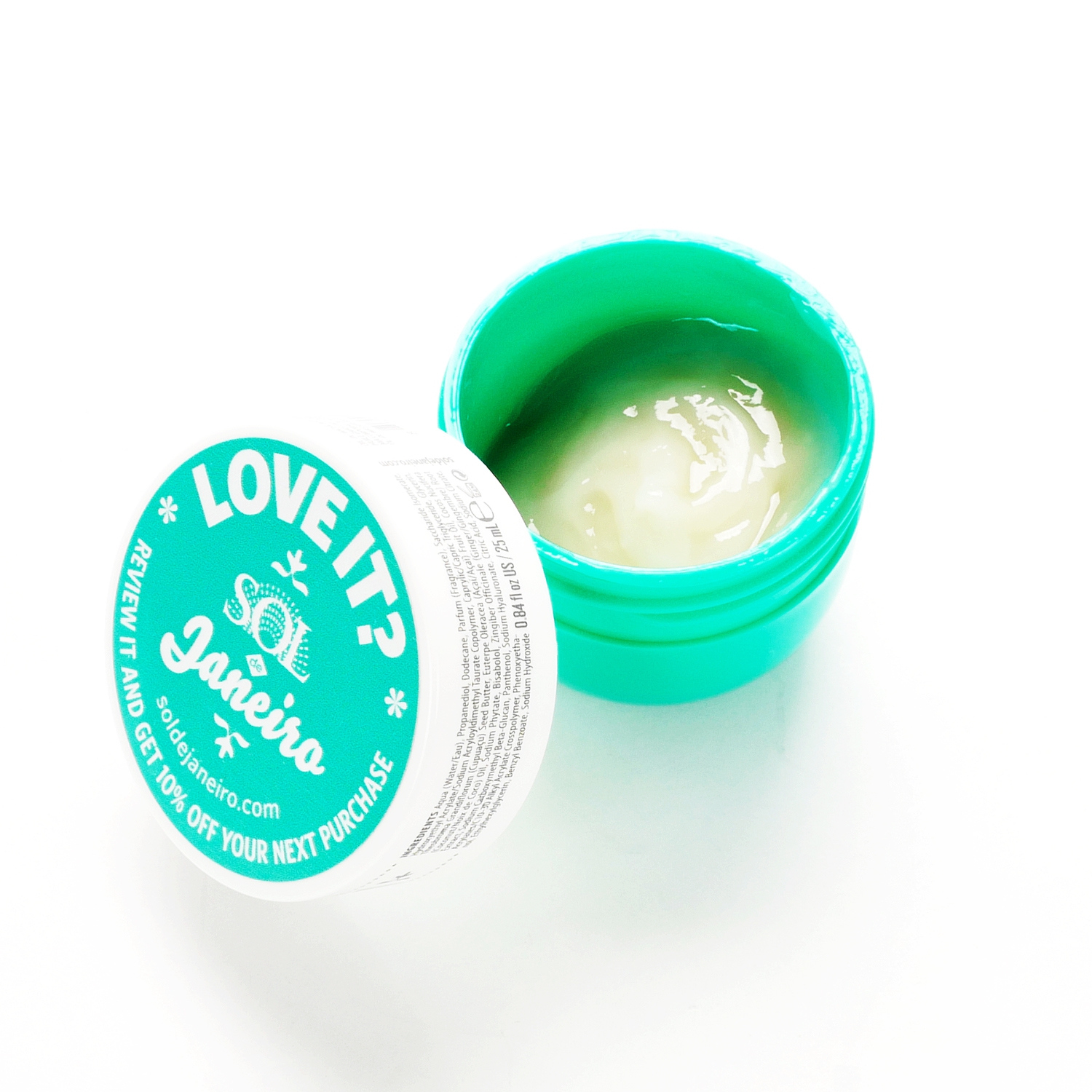 The scent of Sol De Janeiro Coco Cabana Cream is delicious and enticing, with notes of toasted coconut, creamy caramel and buttery praline. This Cheirosa '39 fragrance pairs nicely with the original Cheirosa '62 Brazilian Bum Bum Scent. I like this new scent more than the Bum Bum cream, but the texture is strange. It's light and feels more like liquid soap than a body cream. It's also very sticky. I love the scent, but the cream doesn't feel nice on the skin. This new addition to the Sol De Janeiro lineup needs some modifications..