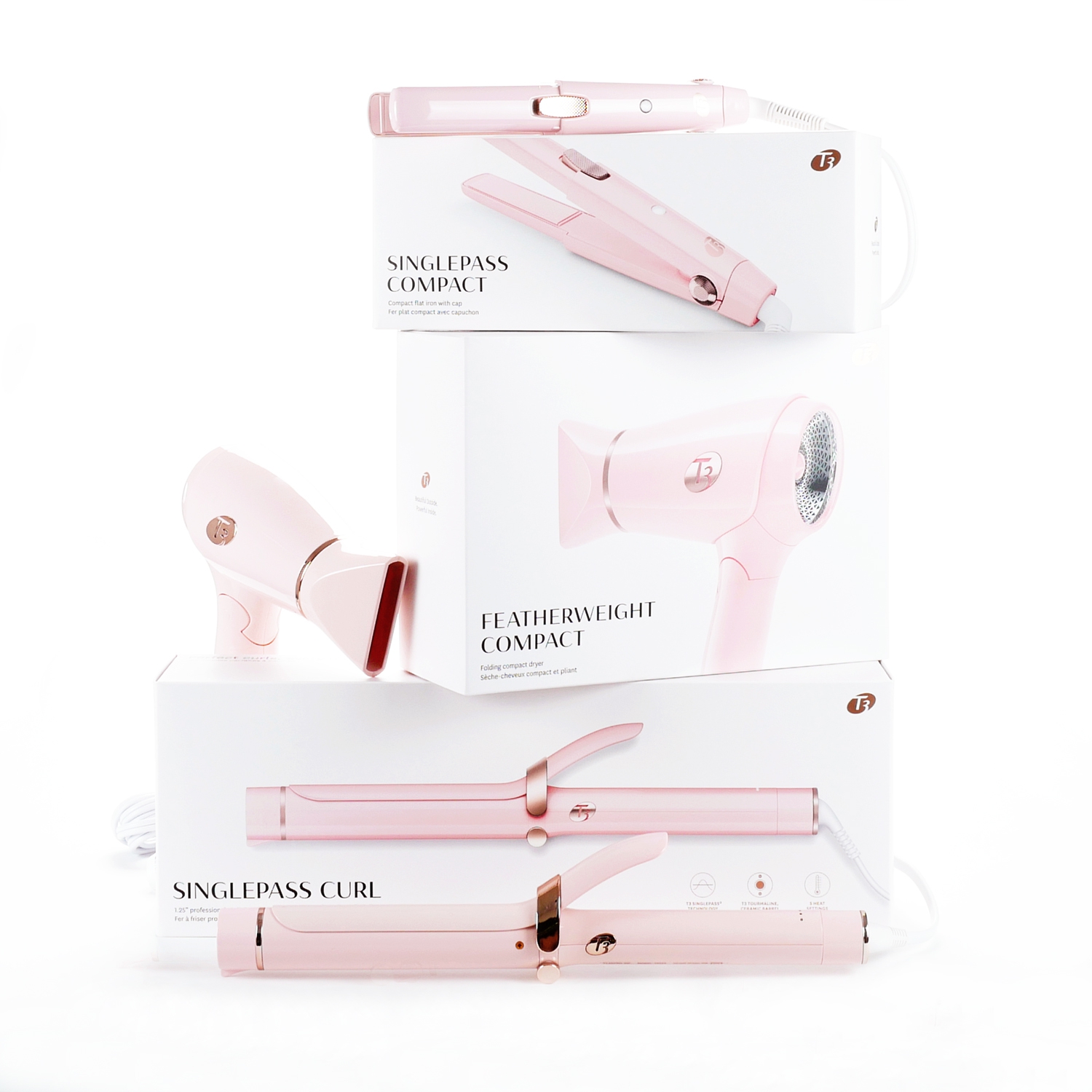 I LOVE PINK - AND, have been coveting the T3 rose collection for months. I'm a lucky girl! I received three T3 styling tools for Mother's Day. Thanks family! I LOVE my new hair styling tools and this shade of pink is perfect!
I've been a fan of T3 for, well, longer than I can remember. I've tried other styling tools, but always go back to this brand. I already have the T3 Featherweight Compact hair dryer and SinglePass Compact straightener in white, BUT had to have the limited edition pink version.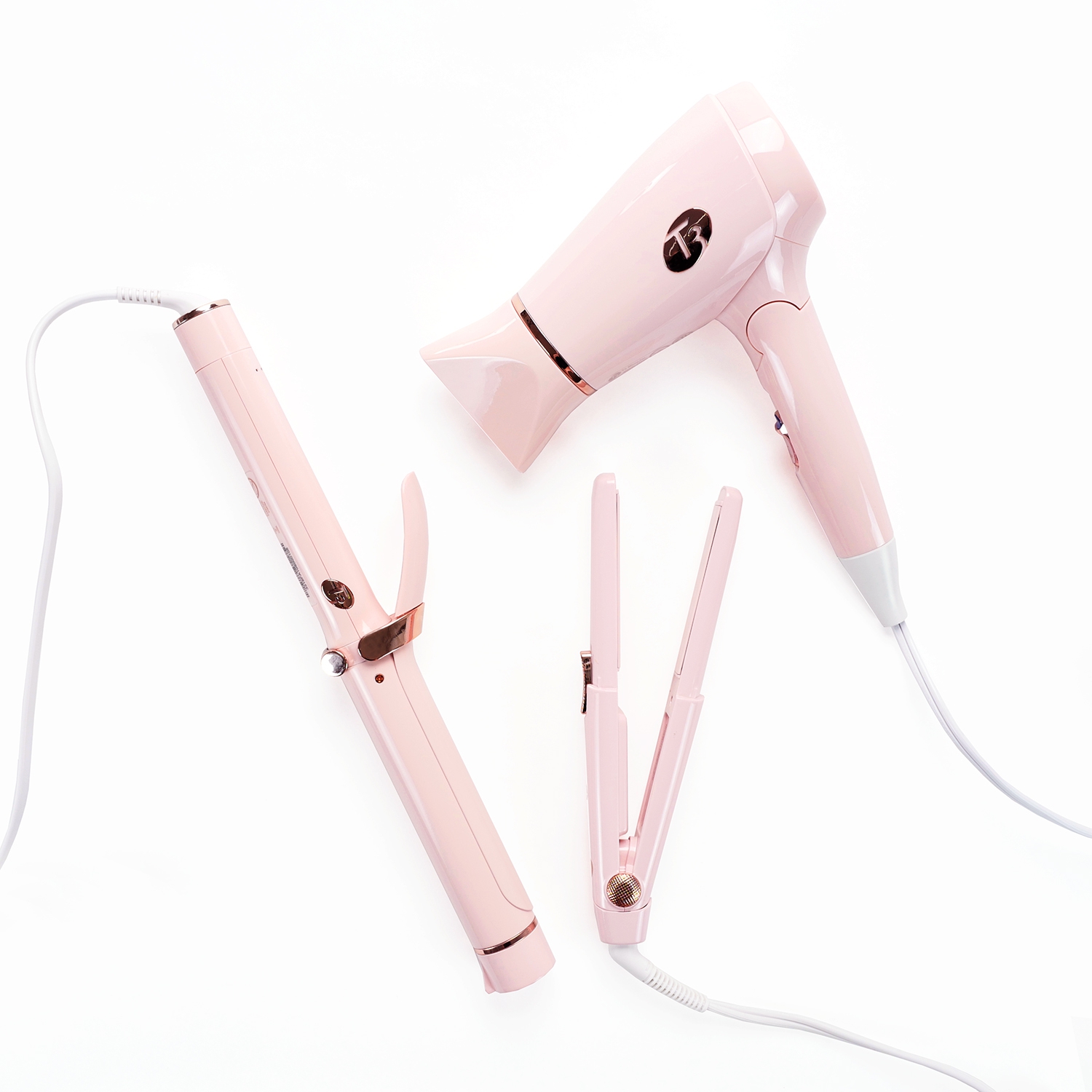 The Singlepass Compact straightening and styling iron is small, but with no less power. There is an internal microchip that maintains an even temperature in the plates. The ceramic plates exude potent heat for quick on-the-go or on-vacation styling.
I love this styling tool. It's small and easy to handle. You can straighten your hair or create loose waves AND your hair will never get caught in the iron. I have no idea how to create a soft curl/wave with a straightener, so I stick to my straight, sleek bob. My hair is really soft to begin with, but this straightener takes it to a new level of silkiness.
If you have a short hair style, I highly suggest you opt for a compact straightener to avoid mishaps! I've burnt my face, neck and ears too many times with full-sized hair tools - not anymore!
I use to curl my hair everyday (many years ago), but have no idea how to create the trendy, wavy hairstyle EVERYONE is donning these days. SO, I'm experimenting with the T3 Singlepass Curl 1 1/4" curling iron.
The iron is HUGE! It's al little scary attempting to curl my short hair, but thankfully the tip remains cool, so you can control the styler with ease. There are five heat settings. I like the smart dial - just twist the end to adjust the heat according to your needs. I use heat setting four and am getting a little smoke, so I suggest you move fast - that's why it's called Singlepass!
I'm still struggling to get a nice wave, but I'm sure it's my method and not the styling tool. I need practice! This T3 curling iron is high-quality and your hair doesn't get tangled in the iron. The barrel is large and I assume suitable for big curls and a "natural" wavy look.
The T3 Singlepass Curl 1 1/4" iron has a swivel cord and auto world voltage, so you can take this styling tool anywhere - just pack the appropriate plug extension.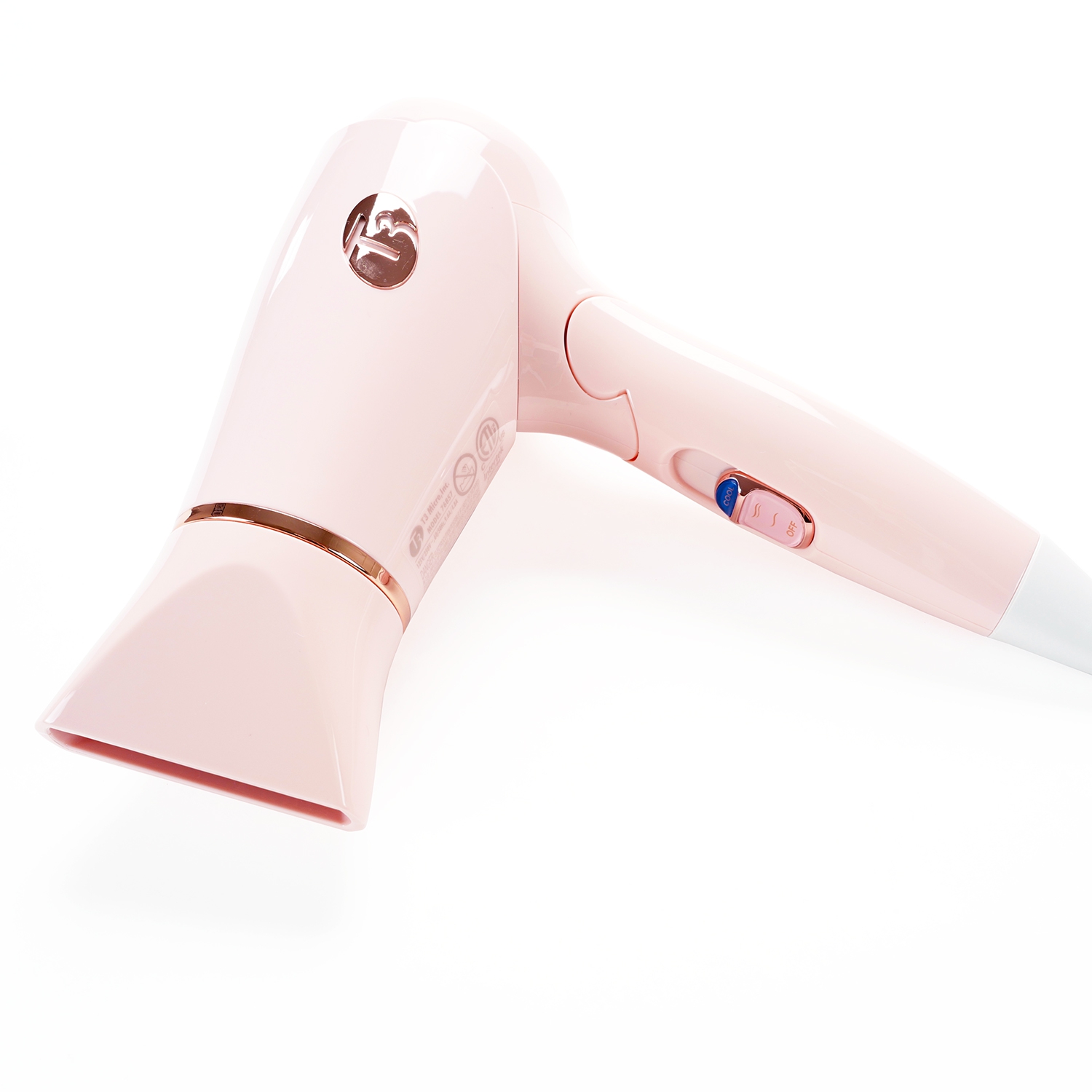 I have purchased the full-size T3 hair dryer in the past, but prefer the travel size - it's lighter, easier to handle and fits in my travel cosmetic bag nicely. The T3 Featherweight Compact hair dryer has two speeds/heat settings, is dual voltage and has a folding handle for easy storage. The T3 Tourmaline SoftAire technology promotes high-speed drying AND reduces frizz. I've done the research - this hairdryer reigns supreme.
T3 claims the body is scratch resistant - I will say that after years of using my white Featherweight Compact hair dryer, the surface on the diffuser was peeling off - hence my desire to get a new one. You can however purchase a replacement T3 diffuser online for $3.
This T3 Featherweight Compact design has been on the top of my go-to hair care list for years, but just got a pink upgrade.