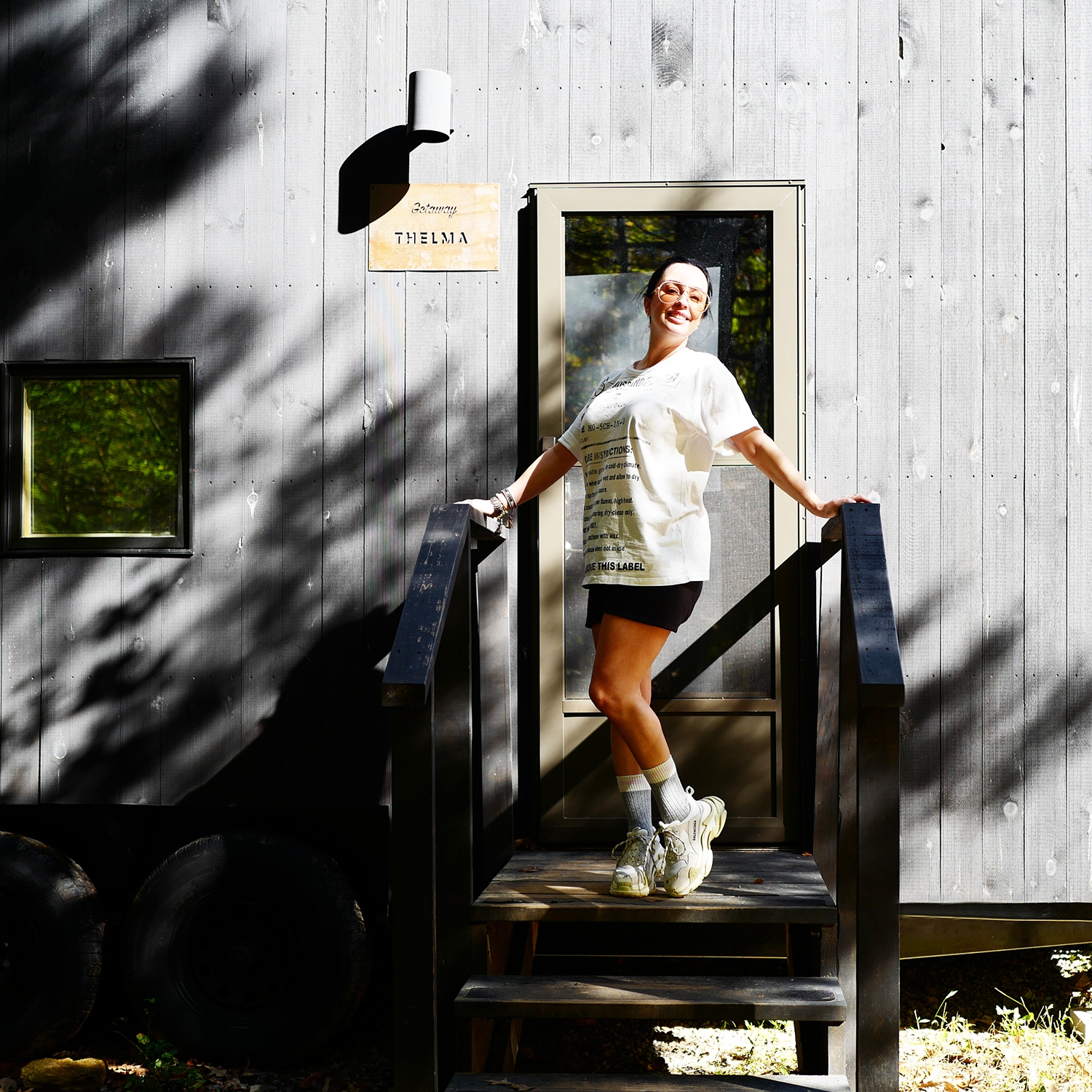 During these unusual times, camping is the safest, social distancing vacation. My go-to glamping outpost is Getaway House DC in Shenandoah, VA. I camped here a few times last year, but had to stop traveling due to 2020 restrictions (and paranoia). A few months ago, I decided to get out of the city and go back to getaway-glamping. I'm obsessed all over again!
The camping outpost in Shenandoah is a 20 acre plot of land with small cabins scattered about. The cabin (Getaway House) is a thoughtfully designed, cozy space, with all the essentials for a relaxing weekend in the woods.
The small area surrounding the cabin is perfect. There's a picnic table, Muskoka chairs and a firepit with a grill grate. There's a container containing wood and a few startup logs located by the firepit and basic provisions inside the cabin for purchase.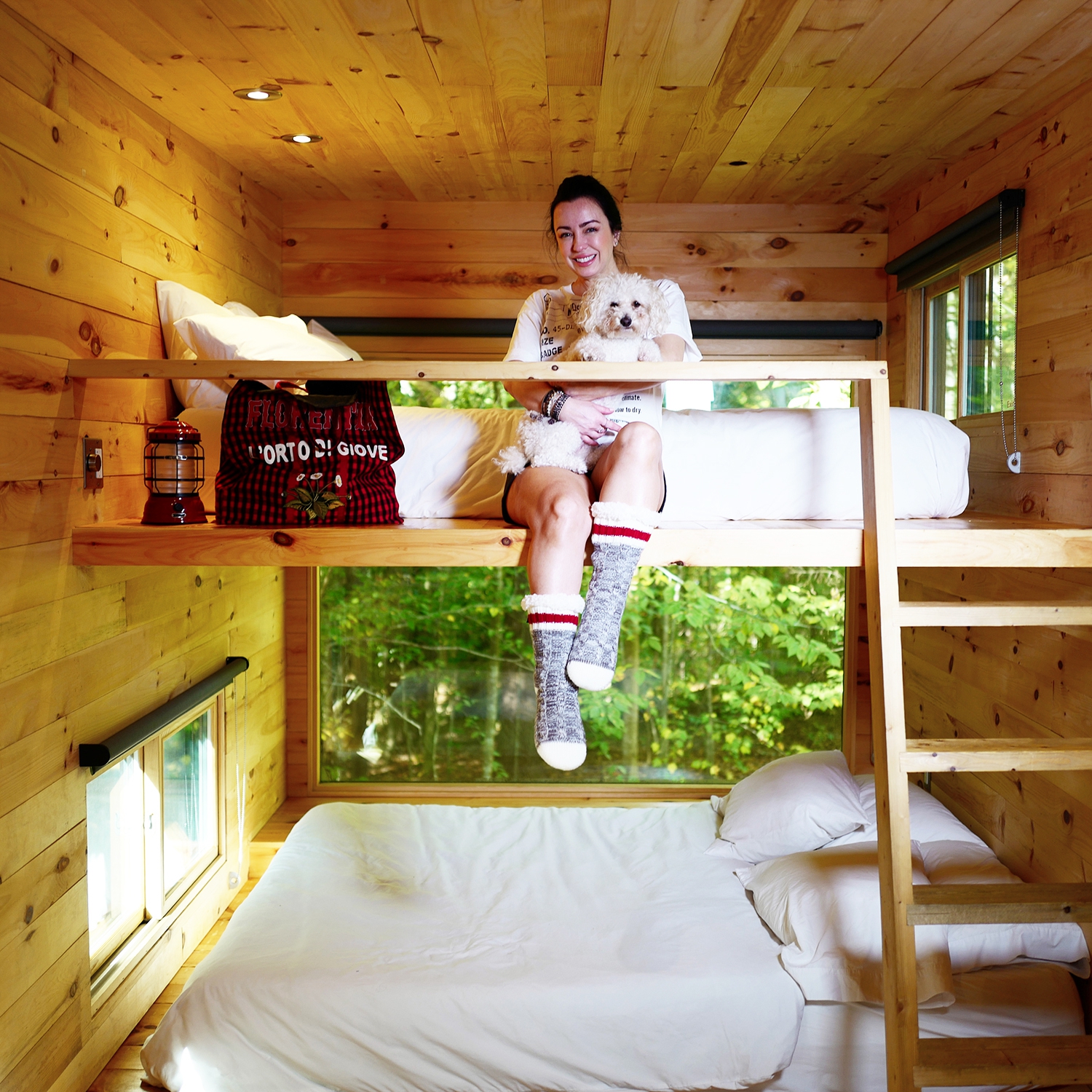 I've camped at Getaway House in Shenandoah seven times and have stayed in cabins located all over the map. I've stayed in Philip, Hank, Juanita, Carroll, Thelma and Lionel. The Thelma is my absolute favorite. This is the first time I've stayed in this style of cabin and although we only require one bed, now I prefer the double bed cabin.
It feels like this cabin is larger than the one bed style and it's nice to have a space to keep your belongings out of the way - We put our stuff on the top bunk. If you've stayed at a Getaway House, you know space is limited and these tiny cabins can get crowded.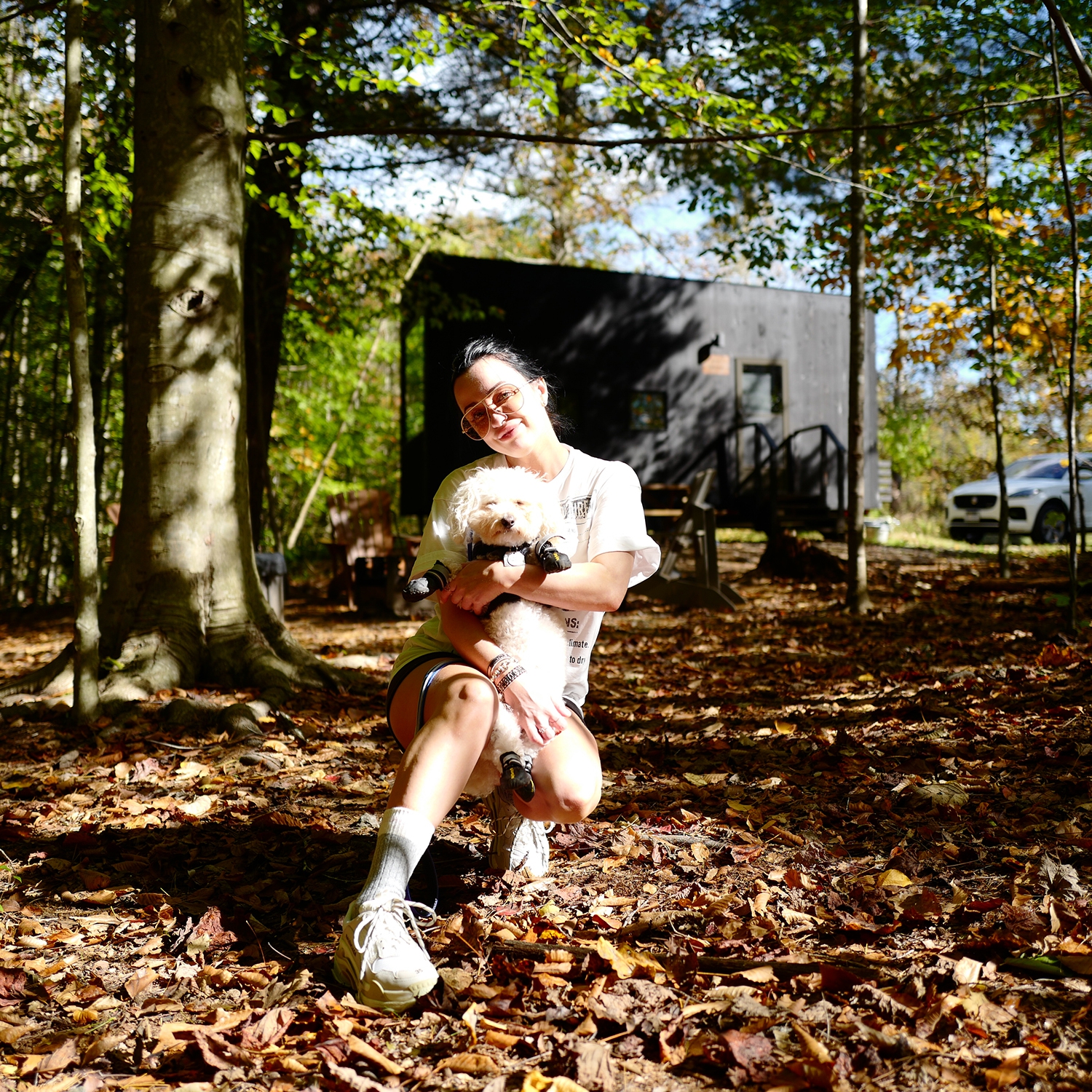 When you book your cabin (one or two beds), you can request a cabin style or a specific cabin. Although Getaway House doesn't promise you'll get a particular cabin, they will make a note in your booking and do their best to accommodate you.
The location of the Thelma cabin is perfect. It's on the outer edge of the outpost and has a larger area around the cabin. I highly recommend you take a look at the Getaway House map and try to snag a cabin in this area of the outpost.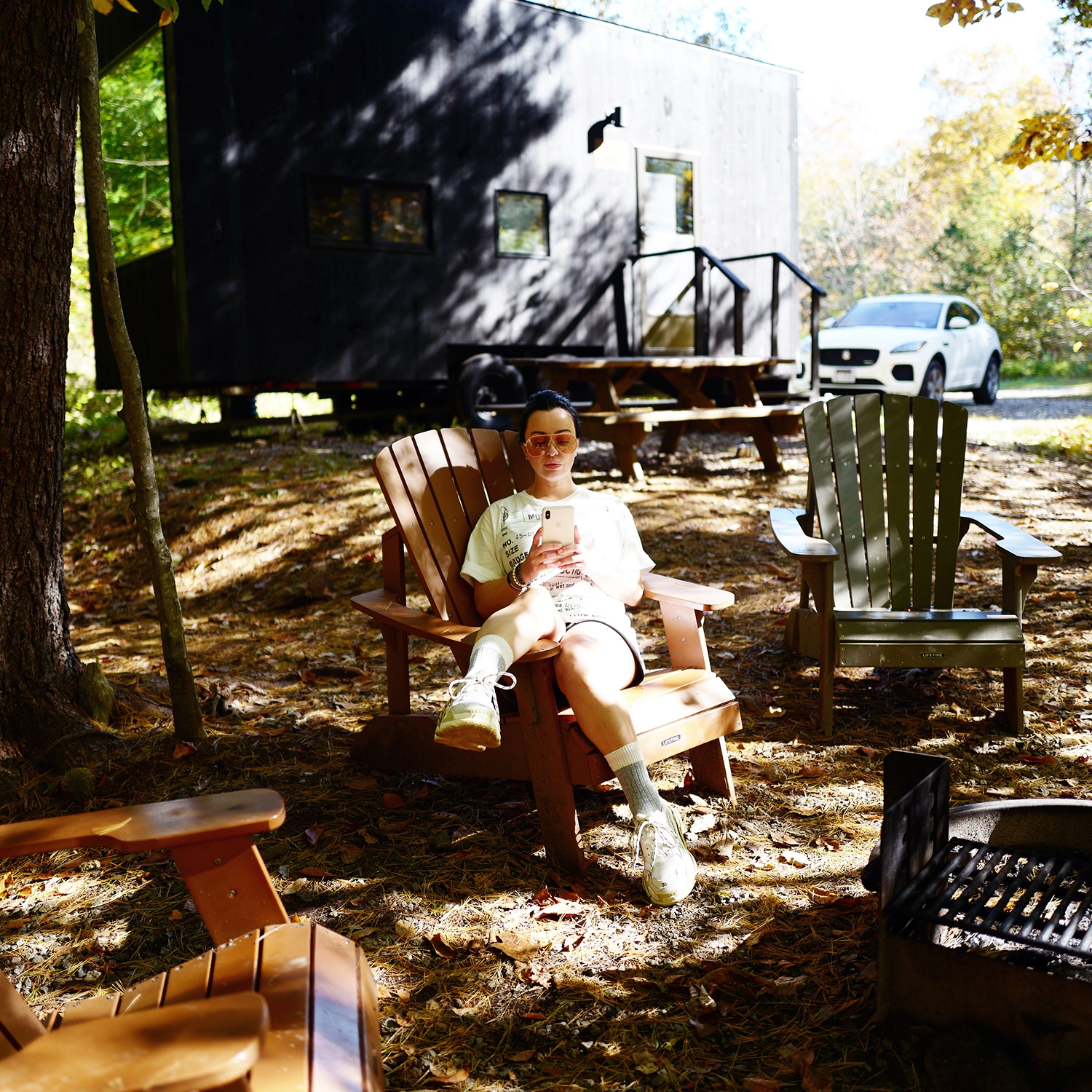 While you should put your phone, tablet and computer away, I can't help myself. Here I am trying desperately to get service. The reception isn't great, so it does kinda force you to enjoy camping sans electronics.
I highly recommend packing board games. My favorites are Bears vs Babies, Exploding Kittens, Throw Throw Burrito and Oh Fruck!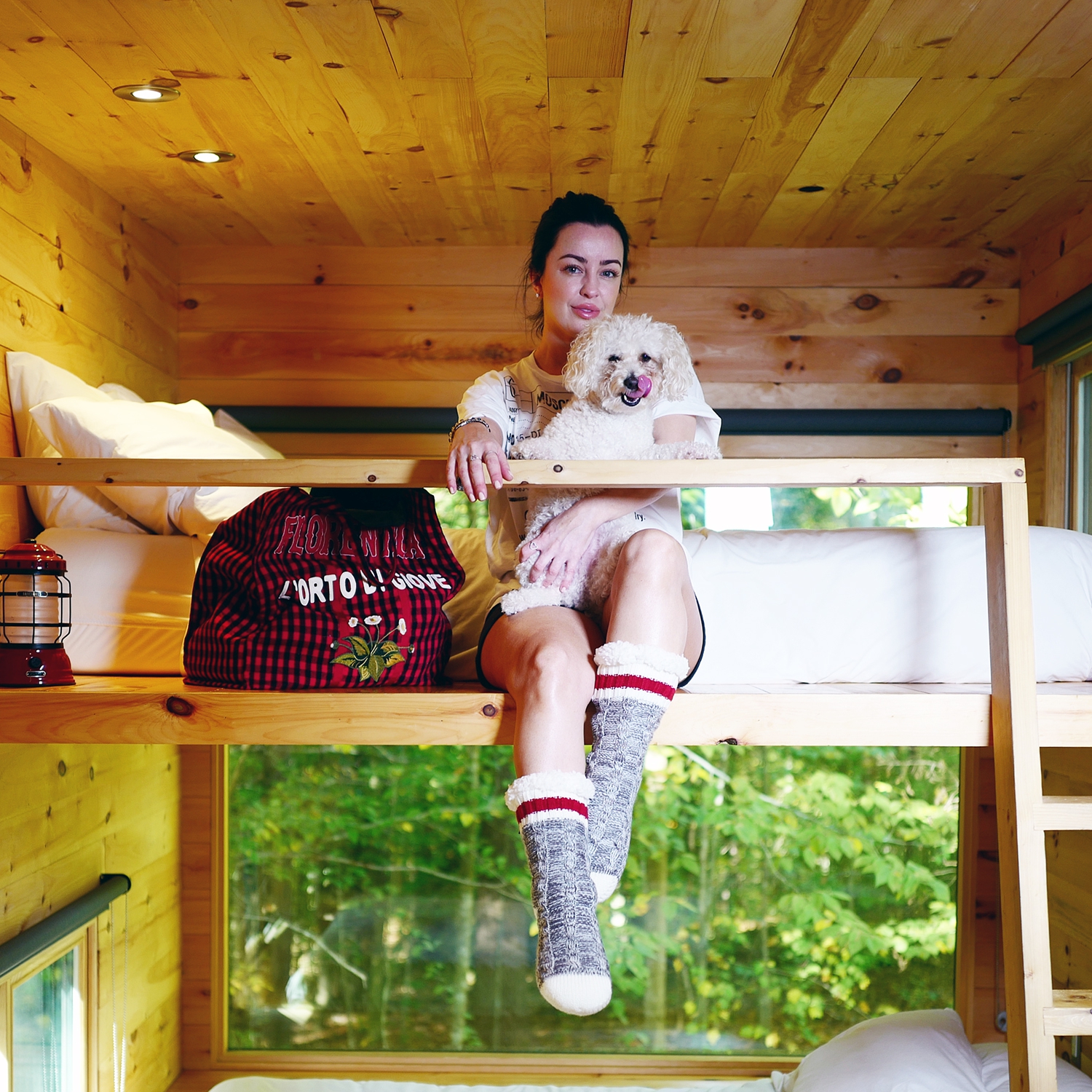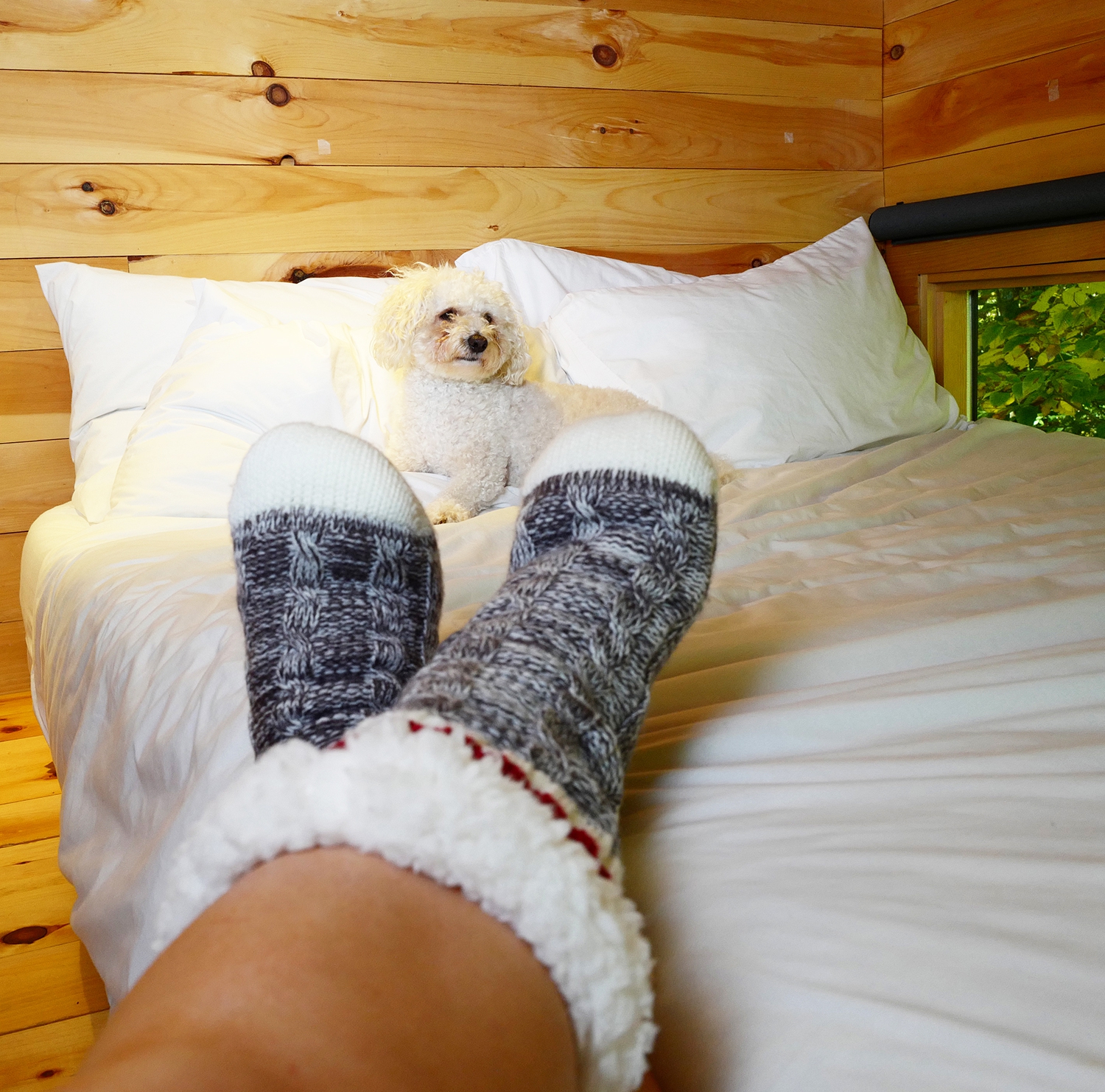 Every camping trip is a little different. Sometimes we explore the outpost, other times we play games all day and I always change up the food and beverage menu. This trip was focused on relaxing, sitting by the fire and taking naps.
Of course, I had to snap a few camping inspired pics of the cabin, Teddy and I before messing it up. Here I'm wearing a Moschino Couture! Care Label-Print t-shirt and Pook socks. Pook is one of my favorite brands to shop camping-inspired clothing and accessories. My tote is the Gucci Florentia Lorto Di Giove tote.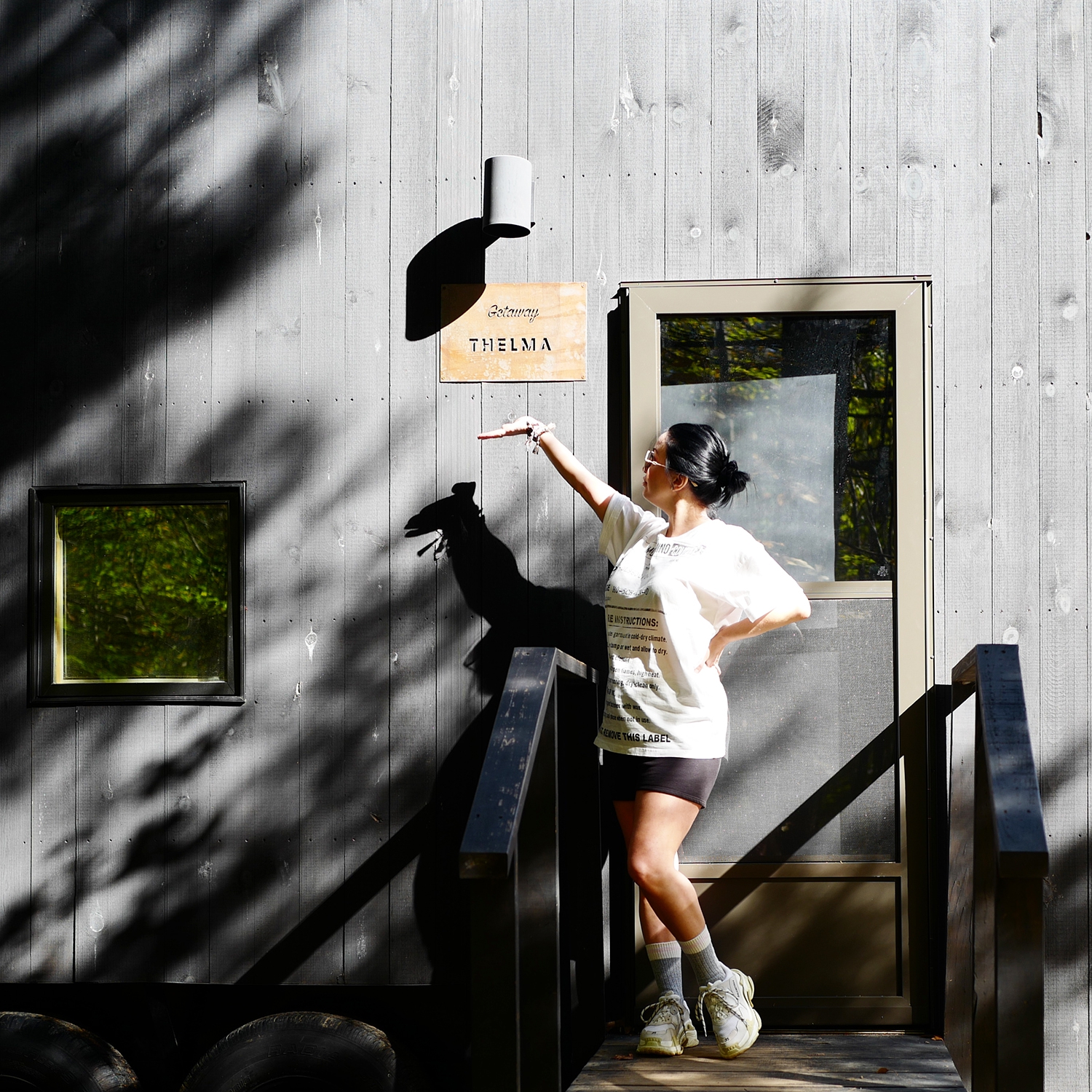 My husband, Teddy and I camp at Getaway House at least once a month. It's good to get a change of scenery once in a while, do something different, put down your electronics (discipline required) and simply getaway from everyday life.
For more info on Getaway House DC, please see my previous posts in the Lifestyle section of b.a.gorgie.com.