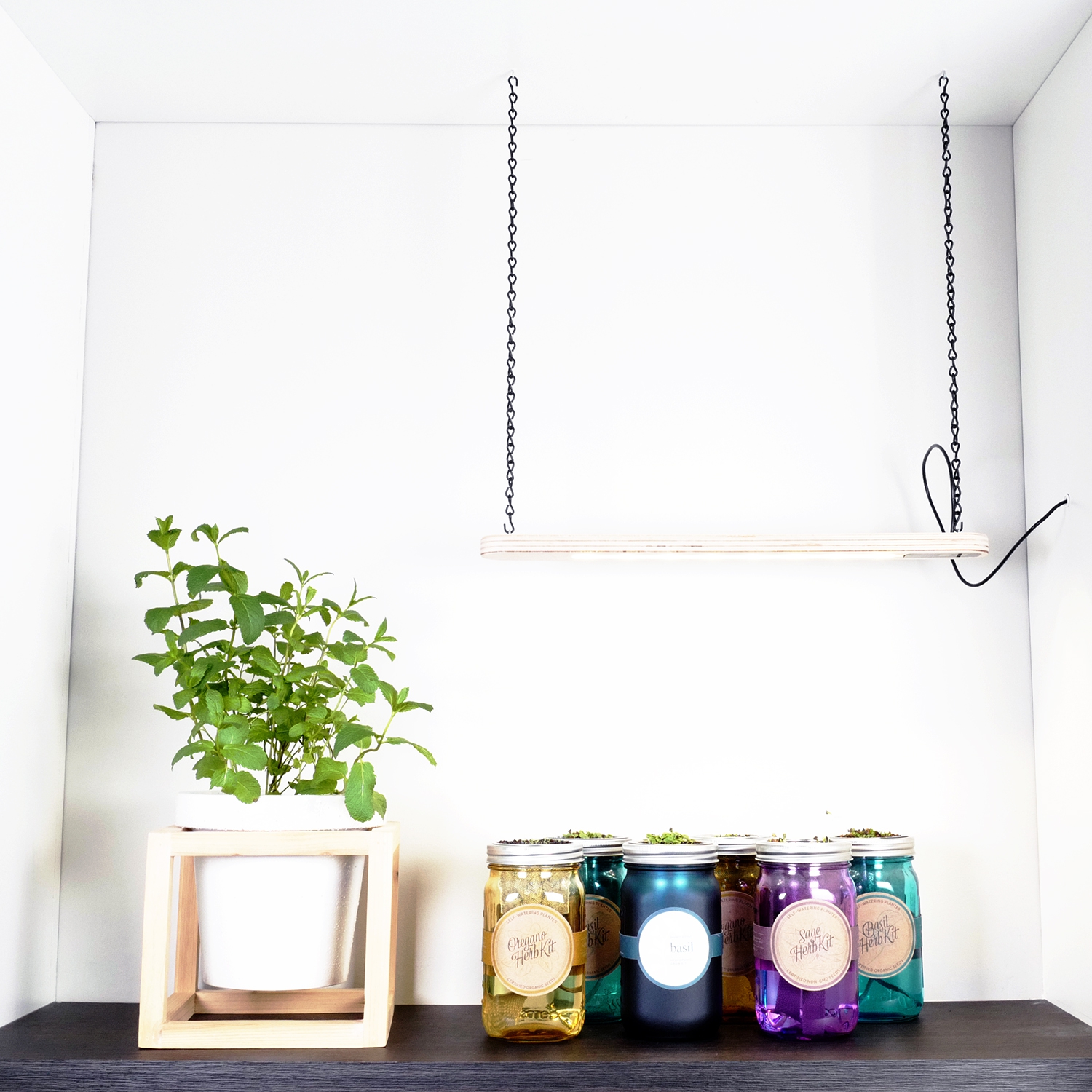 As of late, I find myself perusing home decor and neglecting my long-time beauty and fashion fixation. A few months ago, I purchased a home. I've been obsessing over decor, storage and lifestyle. SO, my fashion hiatus has prompted me to launch a lifestyle section on my blog..
One of the first decor ideas that came to mind when I initially viewed my soon-to-be new place was the oversized shelves in the kitchen - It is the perfect space for growing Modern Sprout hydroponic herbs.
I've been growing hydroponic herbs inside a countertop, LED lit greenhouse for years, but my new open space urged me to ditch the greenhouse and install a Modern Sprout LED grow light.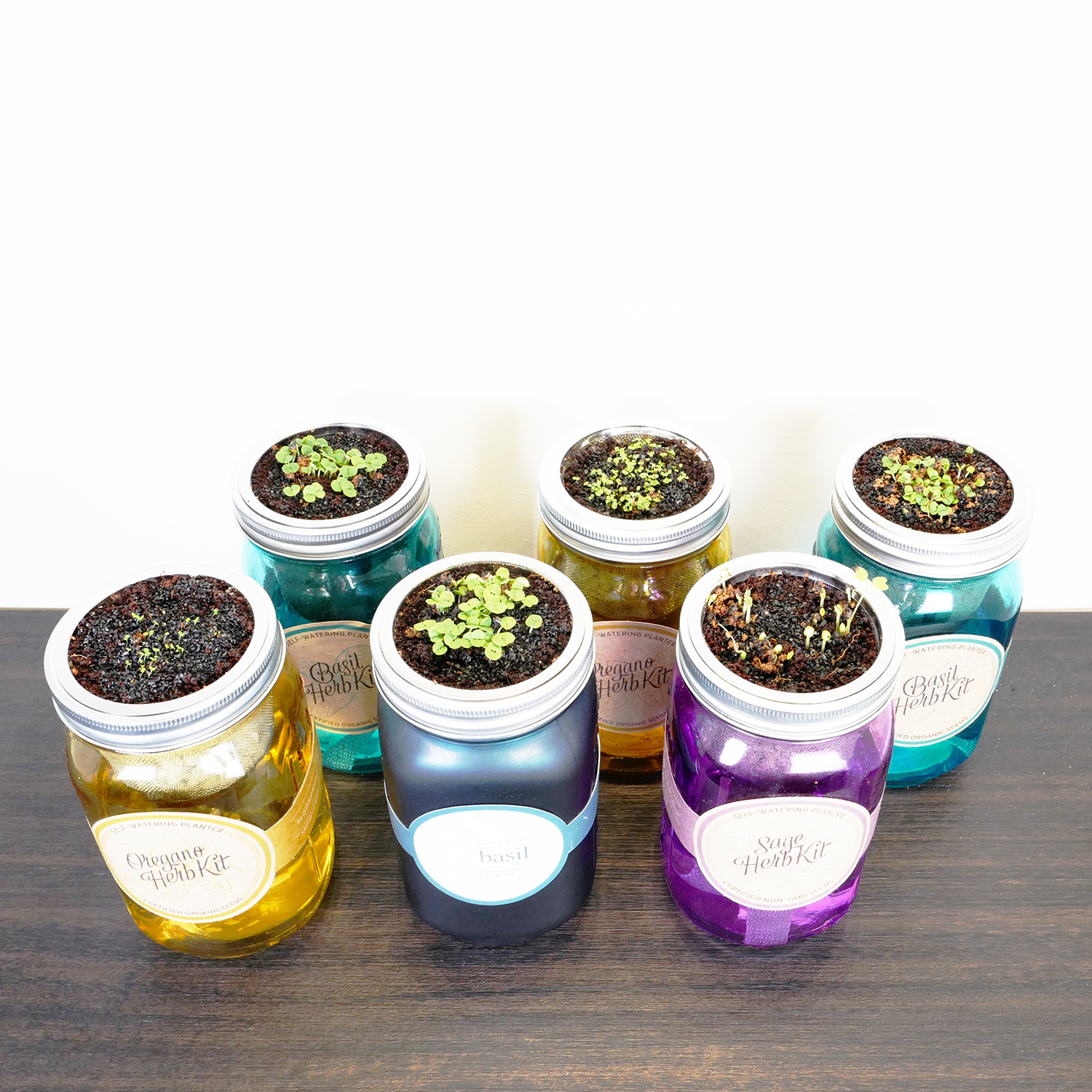 Modern Sprout was started by two regular, but thoughtful thumb-colored people. The indoor gardening company focuses on hydroponic growing methods of herbs, flowers, small trees and salad greens. Modern Sprout also has grow kits for outdoor gardening.
Initially, Modern Sprout sold herbs, but they've expanded into other plants with new jars, vases, hydro planters and biodomes. This in-home gardening method is perfect for small spaces and for folks that live in the city and are lacking outdoor space.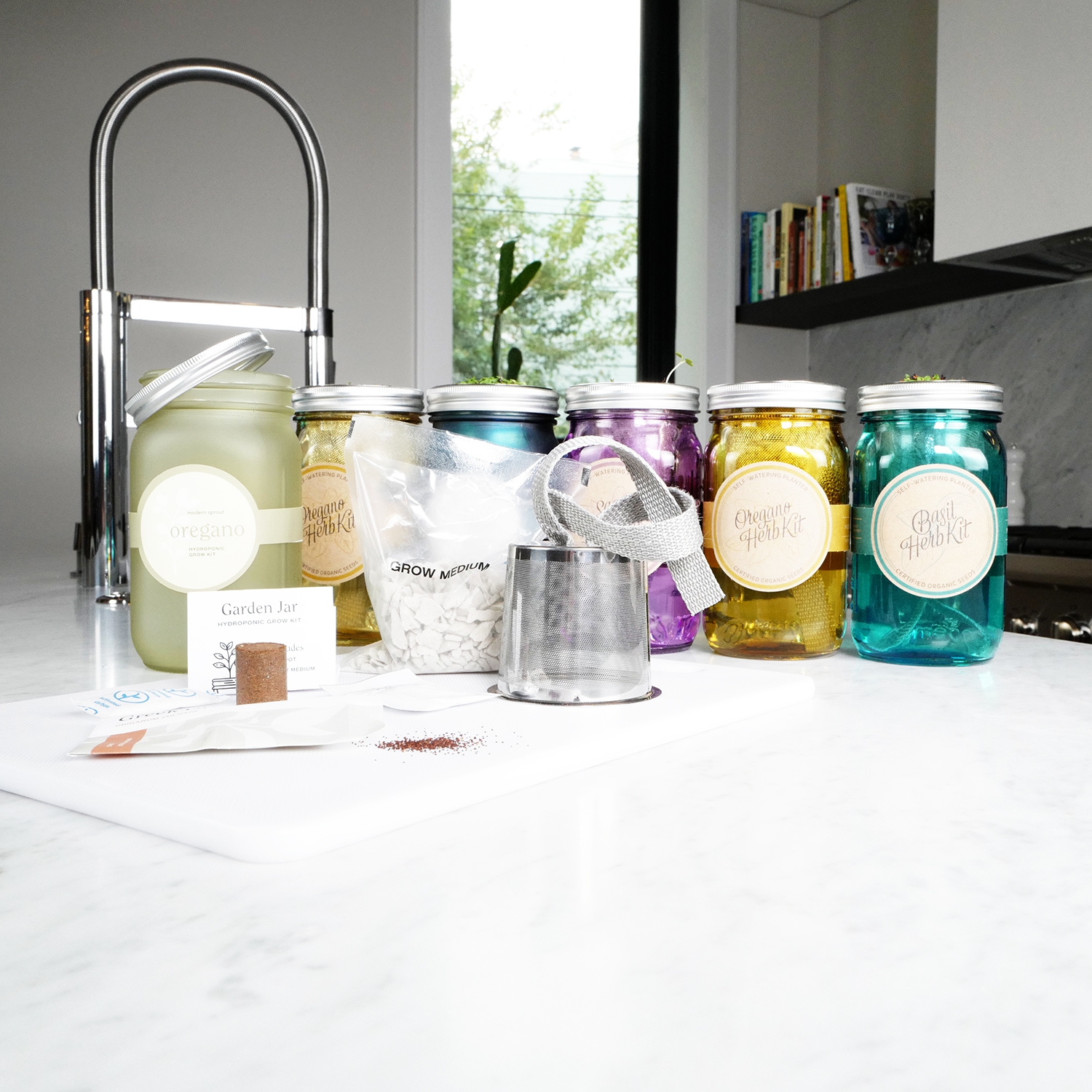 I'm partial to herbs, especially basil, oregano and sage. I use these herbs regularly and love that they're grown in my home, without chemicals. I also find these herbs last much longer than an herb plant purchased at the grocery store.
I tried growing mint many times and was unsuccessful, but the herbs listed above are low maintenance and always a success. The mint plant pictured above was purchased a the grocery store.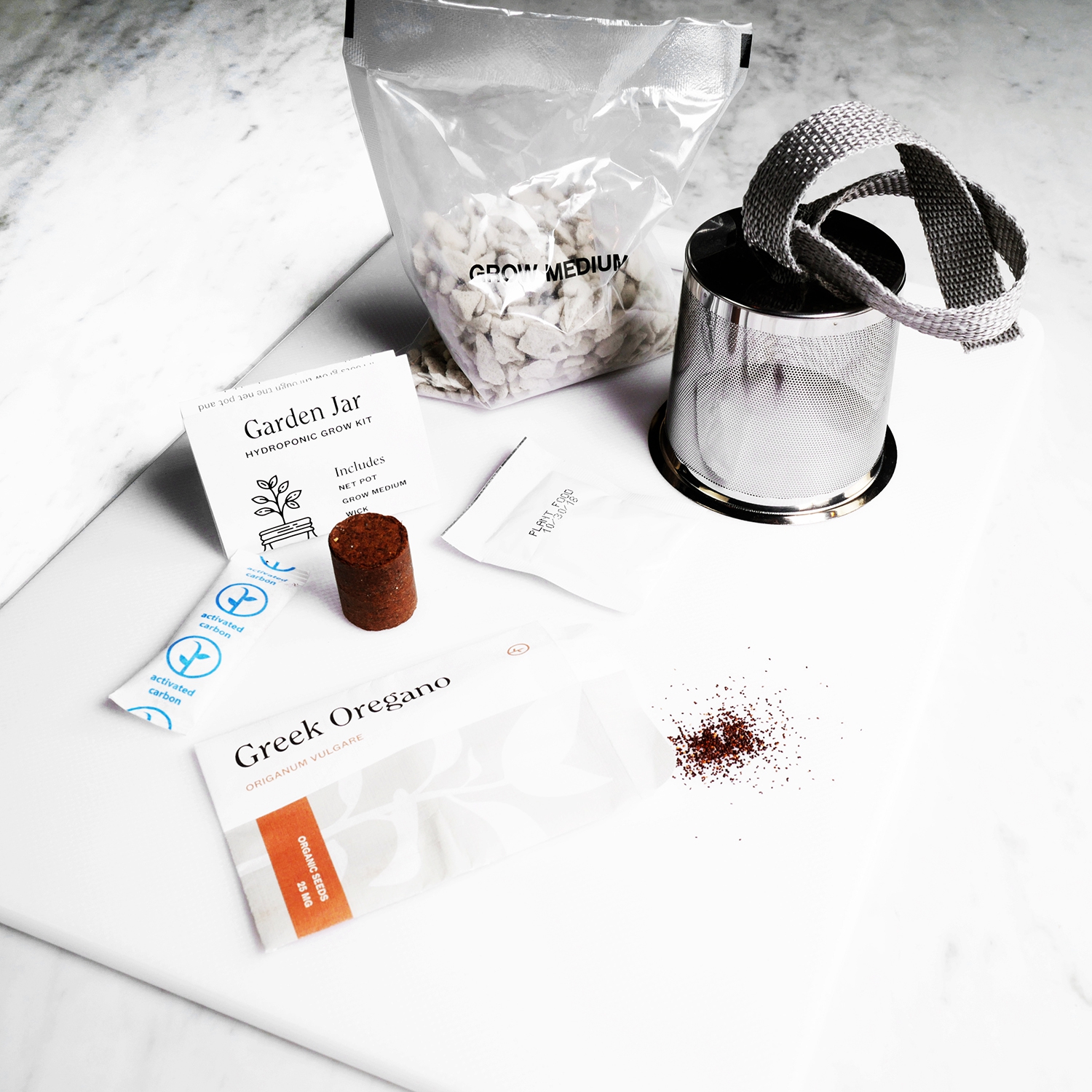 The start-up process is easy. Each Garden Jar comes with a steel net pot, polypro wick, coco pith disk, growing medium, activated carbon, organic seeds and instruction Manuel.
Pull the polypro wick to one inch below the edge of the steel net pot, fill the pot with the growing medium and run warm water over the medium for 30 seconds. Fill the Garden Jar with water (about 2 cups). Place the coco pith disc on top of the growing medium and gently run water over it until the pith completely expands and you are able to spread the soil around. Add the activated carbon and then the seeds. Push the seeds into the soil (mint seeds should remain above the soil). Set your Garden Jars under a LED grow light and wait..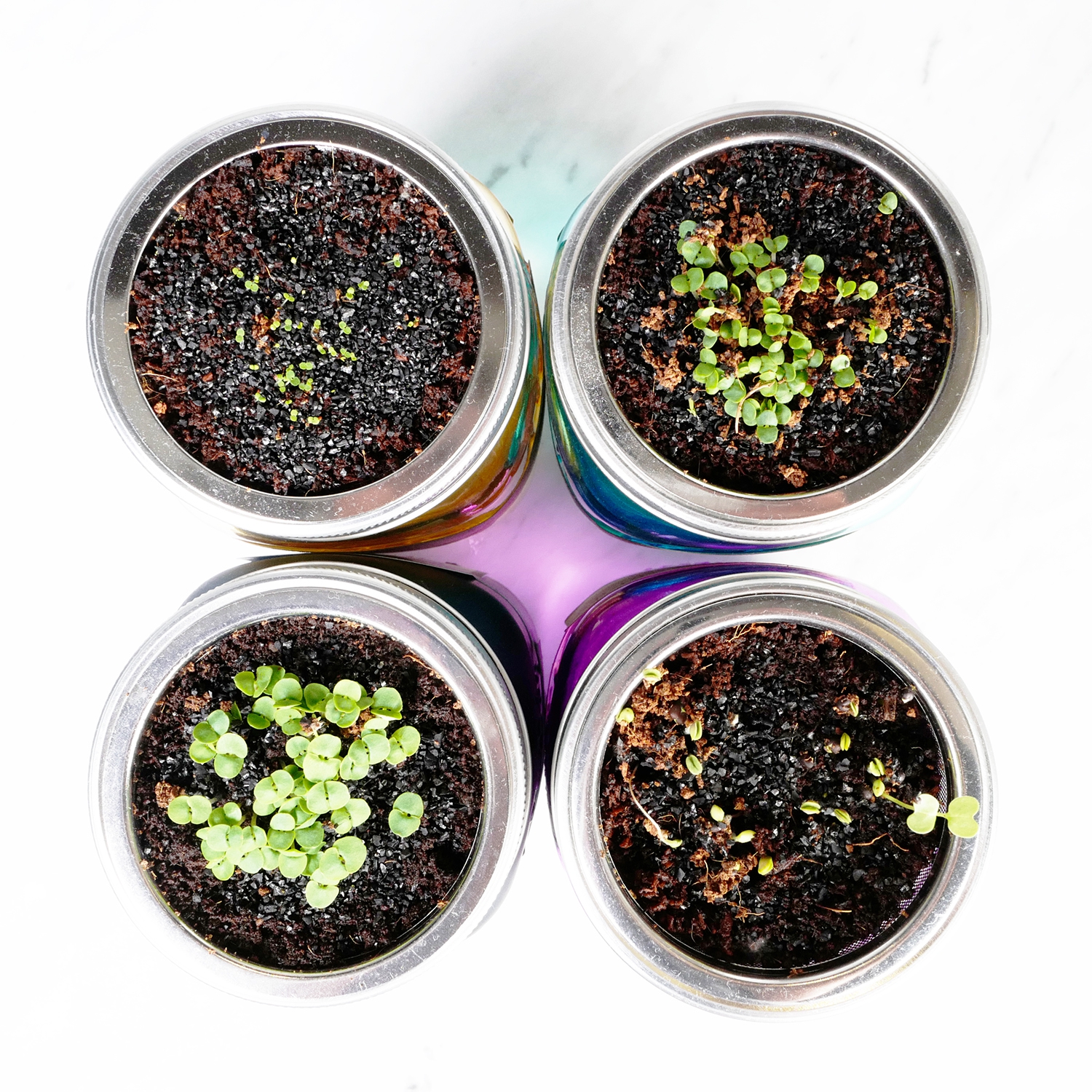 When your little herb garden begins to sprout, empty the water. Mix a little plant food with 2 cups of water - pour most of it in the jar and a little over the soil and through the net pot. Repeat..
This is basil, sage and oregano after one week. The herbs take a little while to get going, but if you maintain them, they will grow up to 12" high. I suggest moving your LED grow light higher as they grow.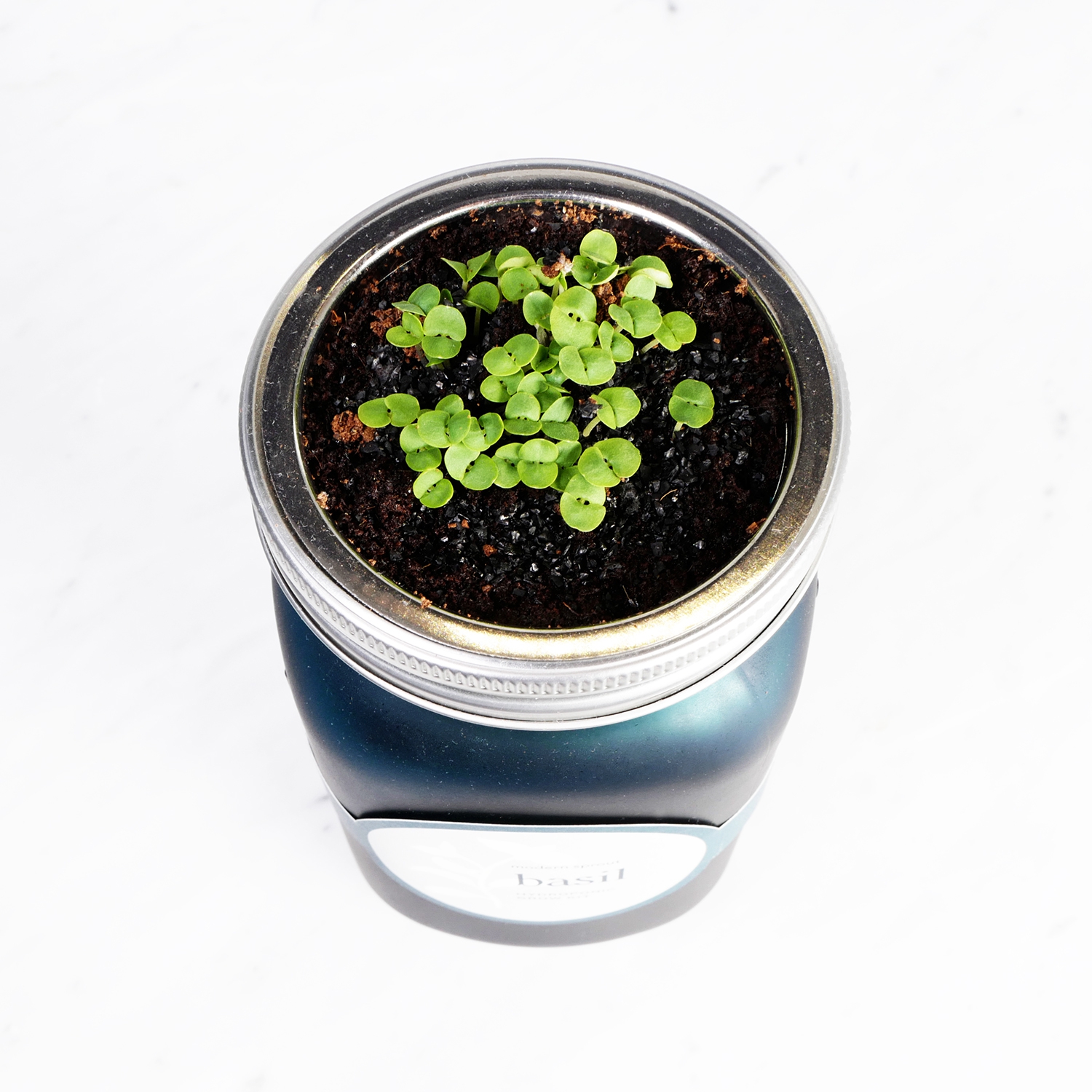 The basil Garden Jar is my favorite. The leaves are a good size and it smells amazing. I use fresh basil in everything; pasta sauce, over baked chicken, in salad and beverages - Add a few basil leaves to hot water for a refreshing beverage.
ALSO, basil freshens your breath - So, chew on a few leaves when necessary.
AND, basil is an excellent source for vitamins. The extracted oil can be used to treat wounds and skin infections.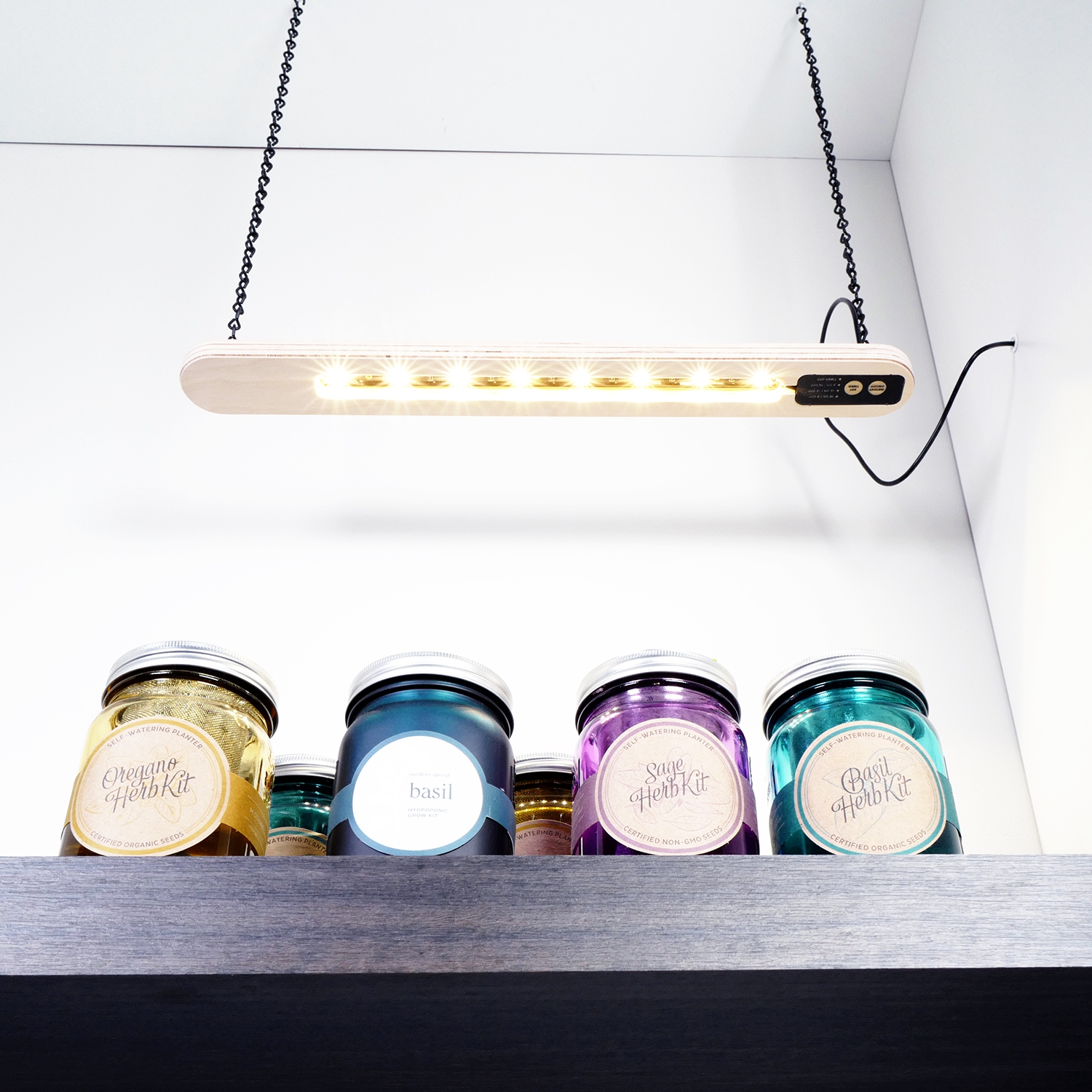 You can purchase a Modern Sprout Grow House with an LED grow light. It fits nicely on the countertop, is appealing to the eye and can hold up to four Garden Jars. It's super expensive, but mine lasted years - I gave it away and I'm sure it will keep glowing for a few more.
My oversized kitchen shelf is the perfect space for a hydroponic garden. But, this time I went with the Modern Sprout LED grow light. I purchased two (one for each counter), but..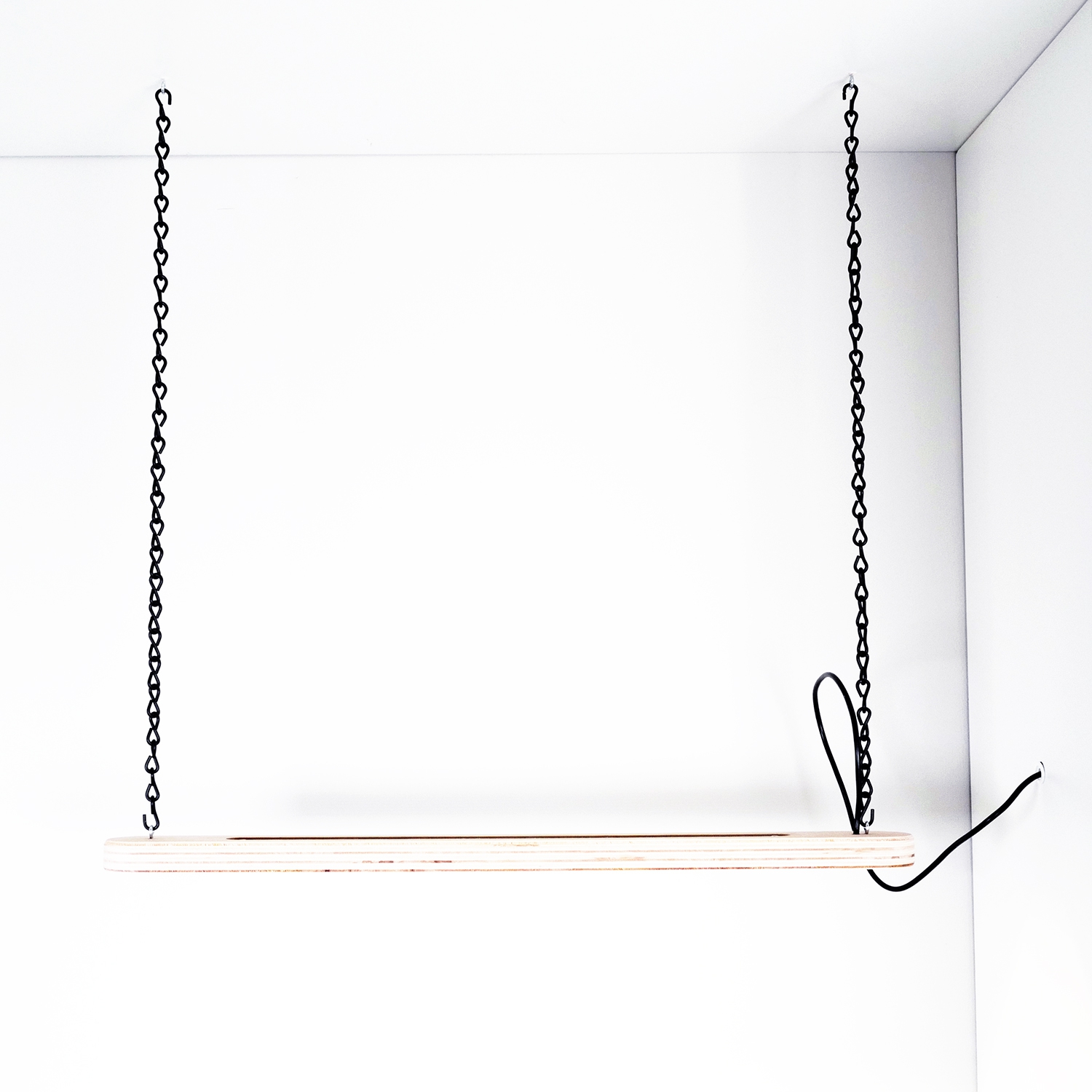 I struggled (REALLY HARD) with the idea of drilling holes in to my cabinetry to accommodate the grow light, but after a full day of contemplating, considering different options and having a breakdown, I went for it. I'm beyond happy with the outcome.
I screwed two small holes in the roof of the cabinetry to hold small black chains, attached the grow light and drilled a larger hole in the side of the cabinetry for the power cord. Luckily, I have an outlet in the cupboard next to the shelf (for the microwave).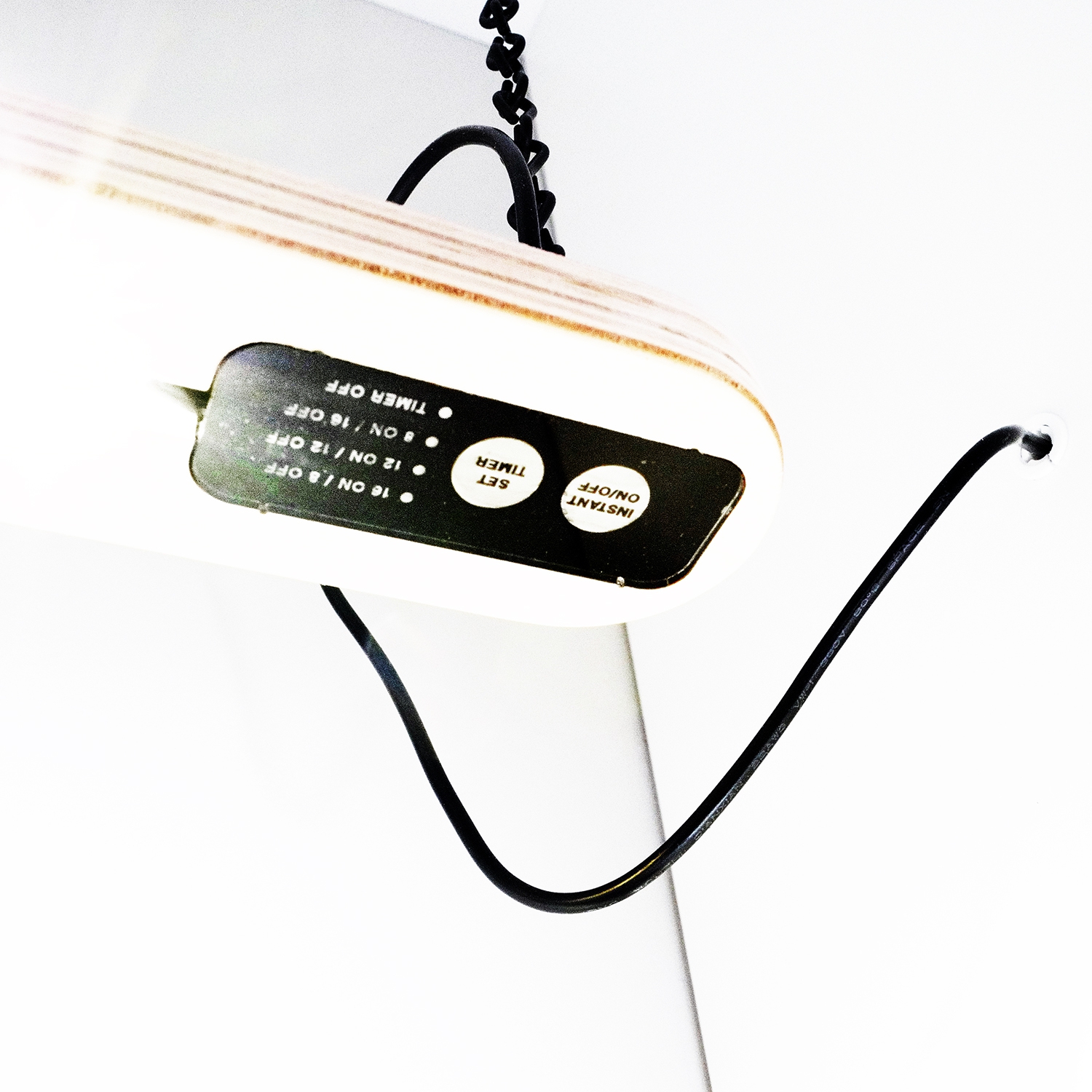 The grow light has three settings and an automatic on and off option. I opted for the 12 hours on and 12 hours off. Choose the time of day you want the light to come on, set the timer, press the on button and hold till the light reaches maximum strength. Each day, your grow light will turn on and off at the same time.
The Modern Sprout hydroponic indoor garden is easy to maintain, looks great, is a conversation starter and will give you plenty of fresh herbs. I LOVE this gardening method.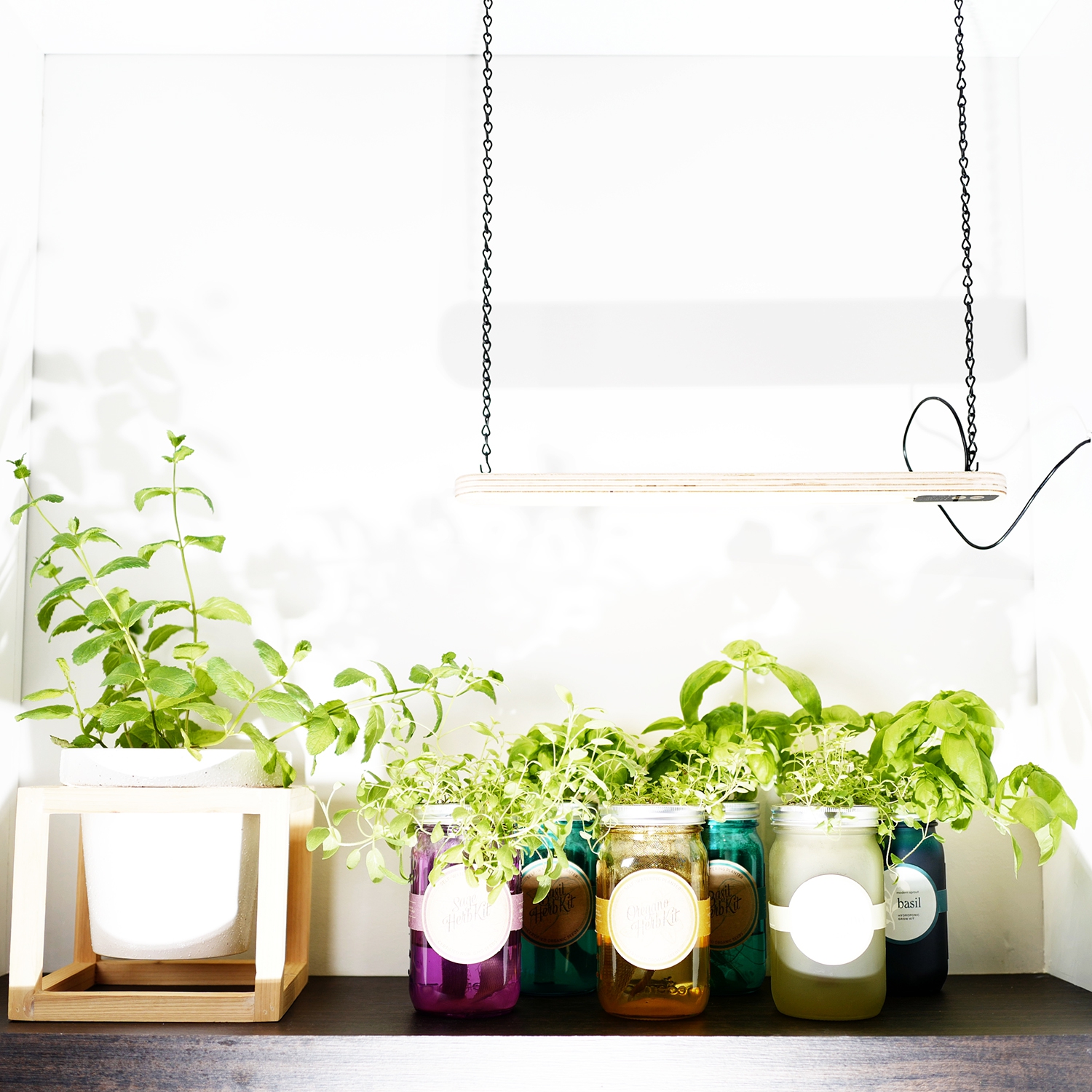 October 30th - It's been about two months since I planted my Modern Sprout herb garden jars and this is the result. The herbs are growing fast and the basil is delicious. Once a week I empty the old water, add plant food to two cups of fresh water and pour most into the jar and then a little on the soil.
An indoor herb garden is perfect for colder seasons. I love my indoor herb garden and wish I had more space to expand..