These are the days that have me smiling until my face hurts. There's no feeling like shopping one of your favorite designer boutiques in one of your favorite cities (New York) and walking the streets with your shopping bag(s). The sales representatives always ask if I want my bags delivered to my hotel and I say "NO, strutting my new purchases around town is part of the fun".
There are benefits - Donning one designer shopping bag entices sales reps in other stores to treat you like royalty - otherwise, they'll probably ignore you! As soon as you walk through the door, you're analyzed, judged and either celebrated or shunned.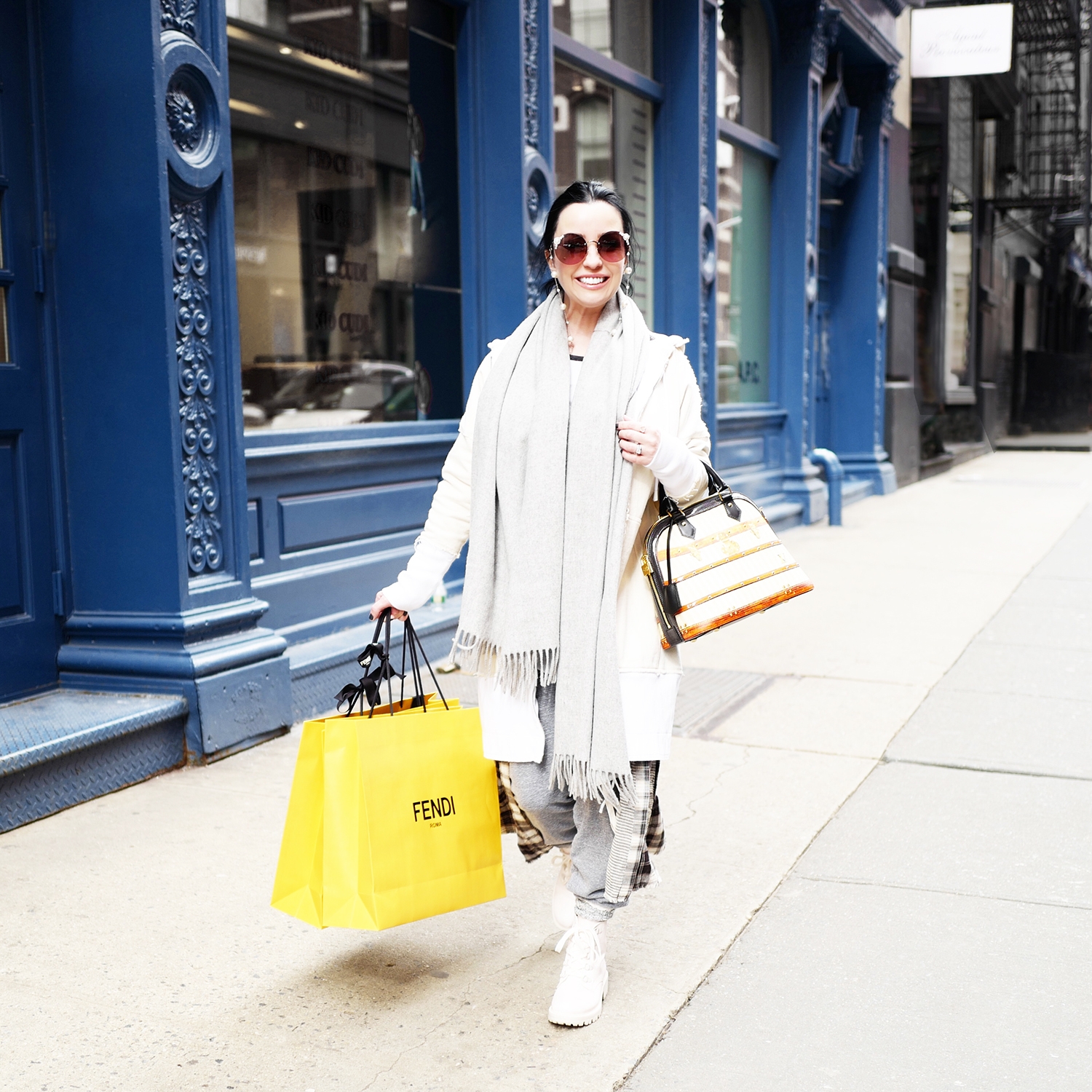 I know I seem superficial and I DON'T CARE! I save all my monetary gifts (my husband says bills make the best gift), research endlessly in advance and usually parade Greene Street on a mission. Sometimes, I pre-order and schedule to pick up in the store, rather than having the item delivered. I want the in-store, VIP experience. Which, should absolutely include champagne - Shame on you Fendi - Soho!
I'm obsessed with perusing designer sites and take pride in my vast knowledge of what's new and trendy. I'm a master at finding hard-to-get designer products and often have friends abroad purchase bags and mail them to me. YES, I'm ridiculous, addicted to fashion AND I have great friends!
The thrill of procuring a limited edition and limited quantity available designer item is hardly describable. That joy is elevated when I purchase in-store. I think most people feel good about purchasing new things, we just all have different desires and needs. Mine happens to be handbags and shoes. My father was in the handbag/luggage industry, so it's no surprise that I would become obsessed with fashion, especially handbags. I also have a strong desire to collect luggage?!
There are many things in life that make me happy, BUT only a mini spree at my favorite designer stores prompt me to get up in the middle of the night to appreciate my purchases. Some things keep a girl awake at night! I'm very fortunate that my insomnia is sometimes a result of awe-inspiring gifts from my husband.
My Outfit - MIU MIU Swarovski sunglasses and glasses chain, Prince Peter Collection Iggy Pop tunic, Sanctuary Nirvana plaid shirt, Rag & Bone wool scarf, Monrow sweatpants, Gucci appliquéd stripe socks, Kendall + Kylie boots, Louis Vuitton Alma Time Trunk handbag