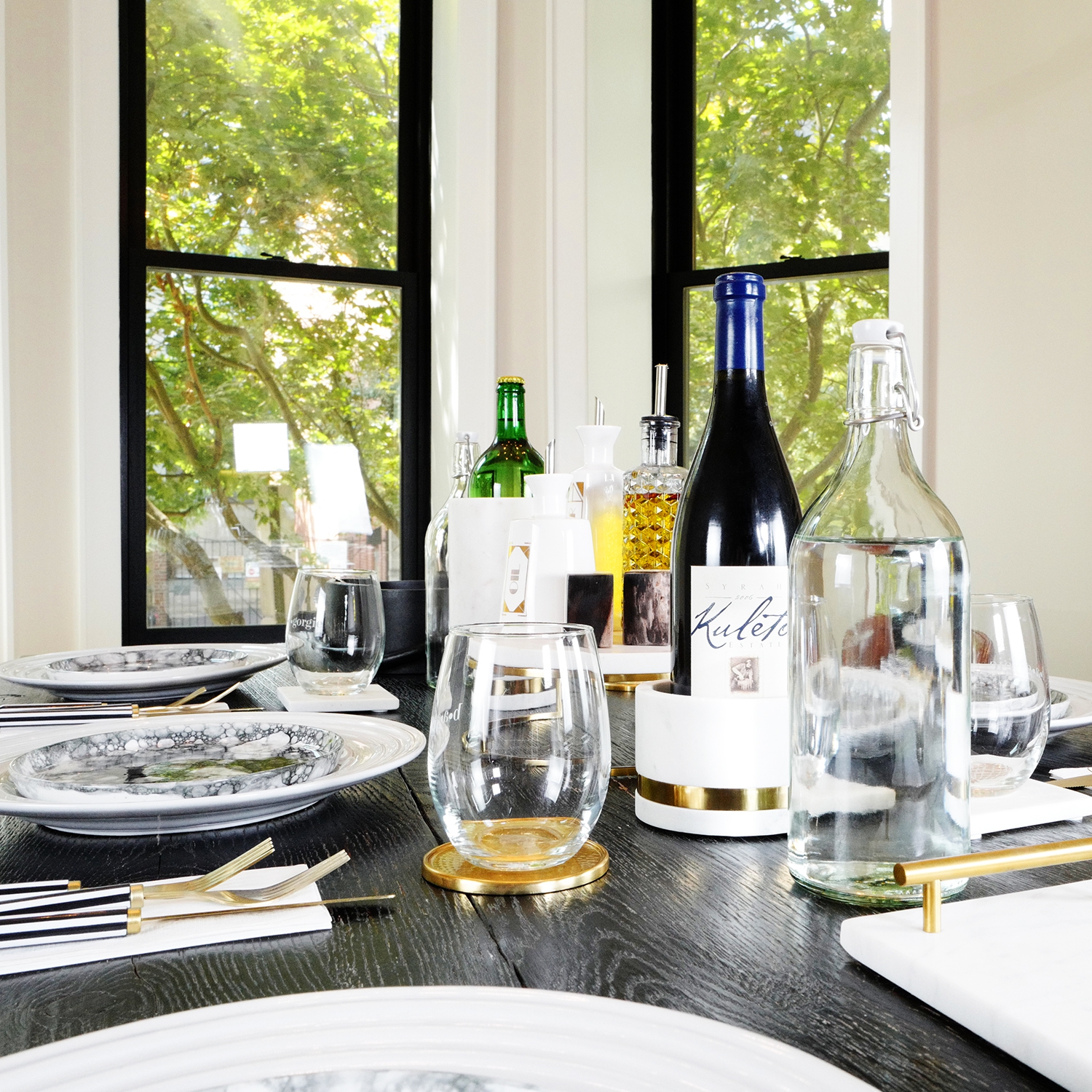 I just bought my first home and am cheating on fashion for furniture and decor. I'm having so much fun decorating and and recently added a lifestyle section to the blog, so I can share my home style.
I was beyond excited to host a few special folks (Erin and Bob) a few weeks ago and wanted my table setting to be modern and memorable. I had a blast shopping for table decor. AND, I'm confident that I created a trendy table that represents me as a host. I got a few compliments!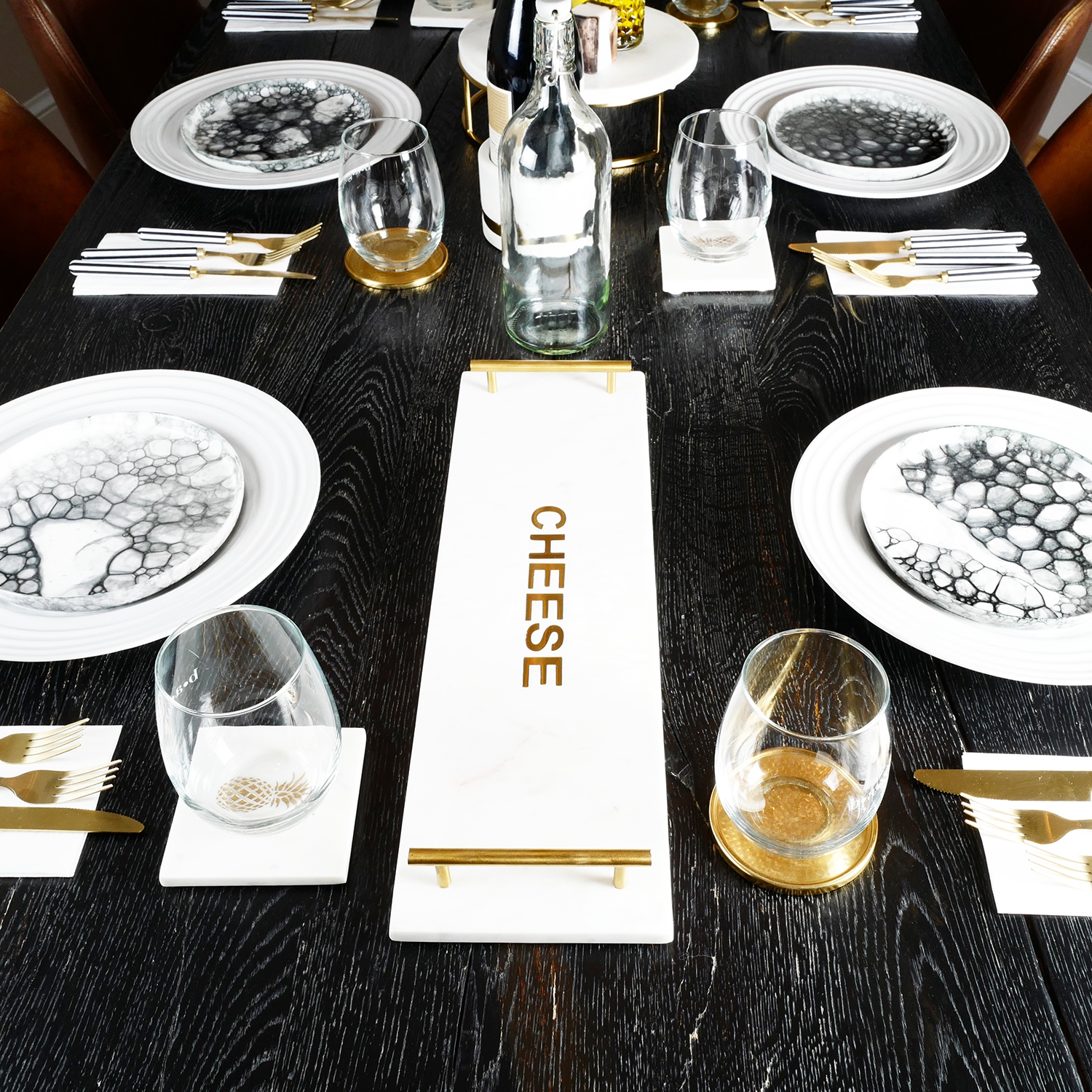 I realize my oversized, Game of Thrones table is not trendy, but I lost the battle on that one. All I can do is jazz it up and make it my own..
I already had classic-white Le Creuset plates, so I decided to go with a black, white and gold theme. My inspiration came from hours of perusing the internet and the perfect set of brushed gold and resin flatware from CB2 - we'll come back to flatware..
I approached this project like I would a fashion shoot. The theme, vibe and color scheme must be cohesive AND I can't afford five different table settings (I spend too much money on shoes and bags), so the theme of my trendy table setting has to be suitable for many occasions. A neutral color palette, with a little gold is perfect.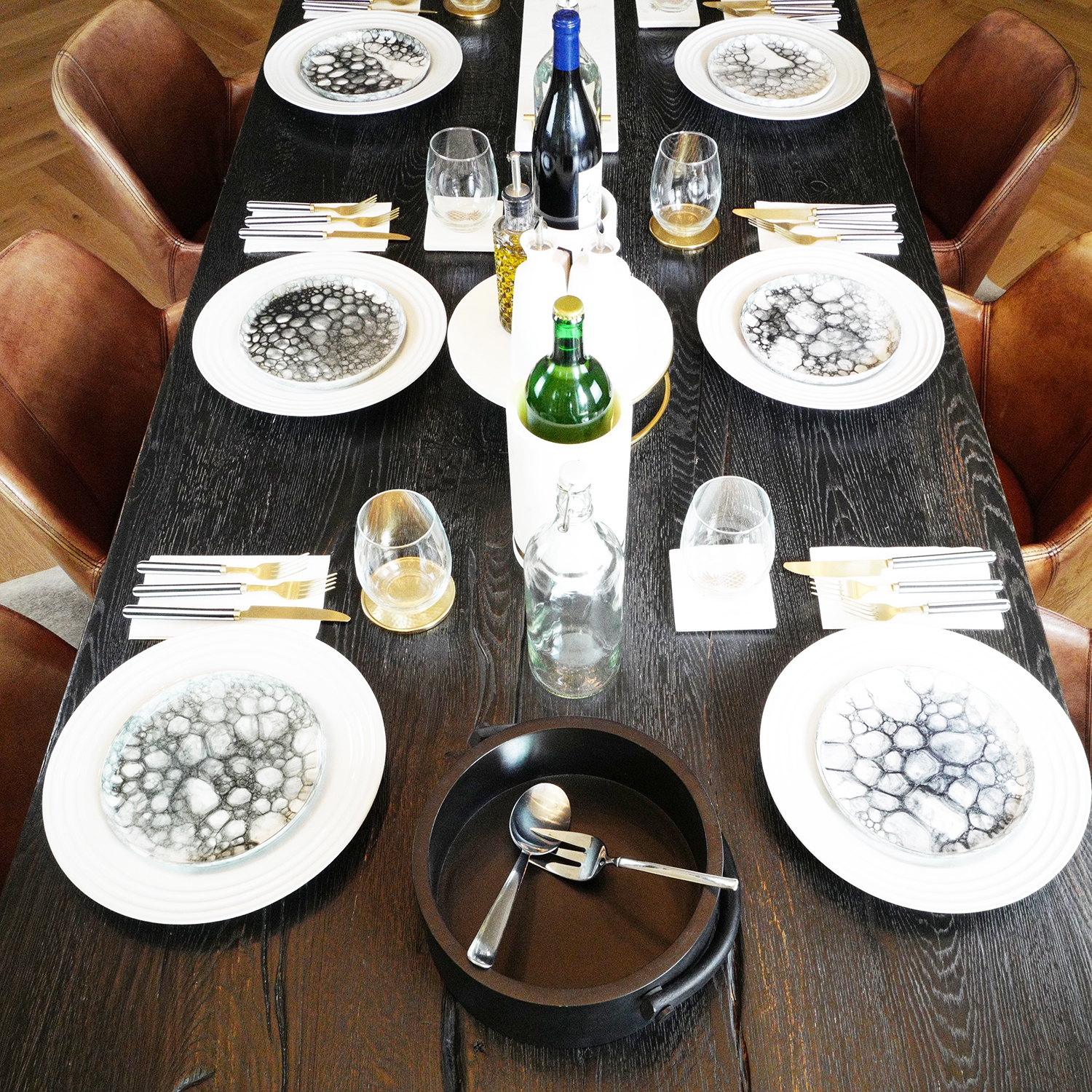 I recently started a subscription at Dry Farm Wines. It's an online health-focused wine club. Each month I receive six natural wines curated from family farms. There is a long list of benefits, but most importantly, these wines have lower sulfites (< 75 ppm) and lower alcohol (< 12.5%).
Some of the wine bottles are intriguing. Pictured above is a white wine in a green wine bottle with a beer cap. It resembles a giant beer bottle and adds a little interest. The details of Dry Farm Wines is also a great dinner conversation.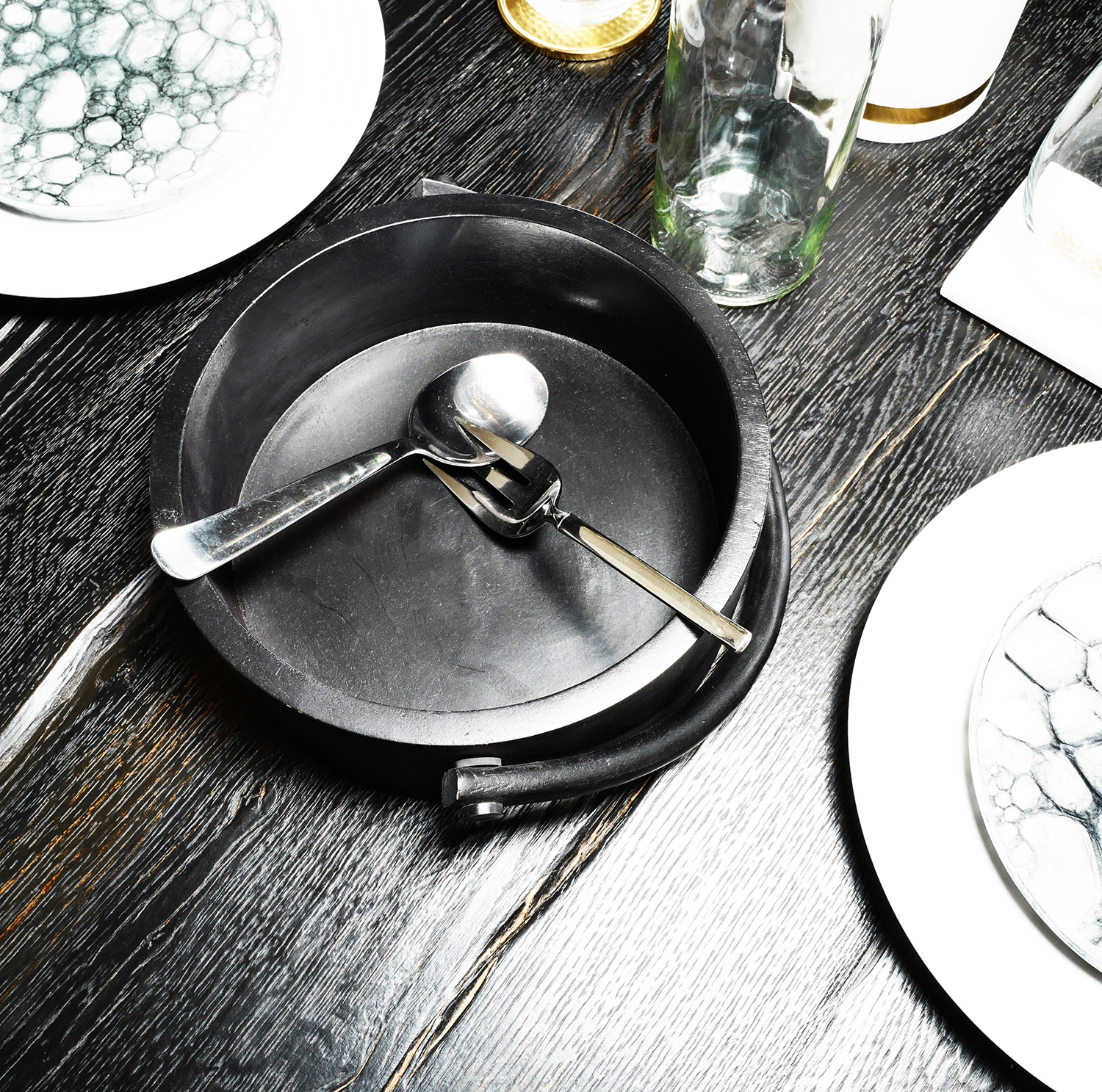 I also opted for unique pieces, like this handcrafted and painted mango wood bowl from CB2. The suggested use is for bread or napkins, but I like to use this as a salad bowl (dry salad of course).
These oversized salad serving utensils from IKEA are nice, but basic. I'm still looking for the perfect set - maybe gold or olive wood.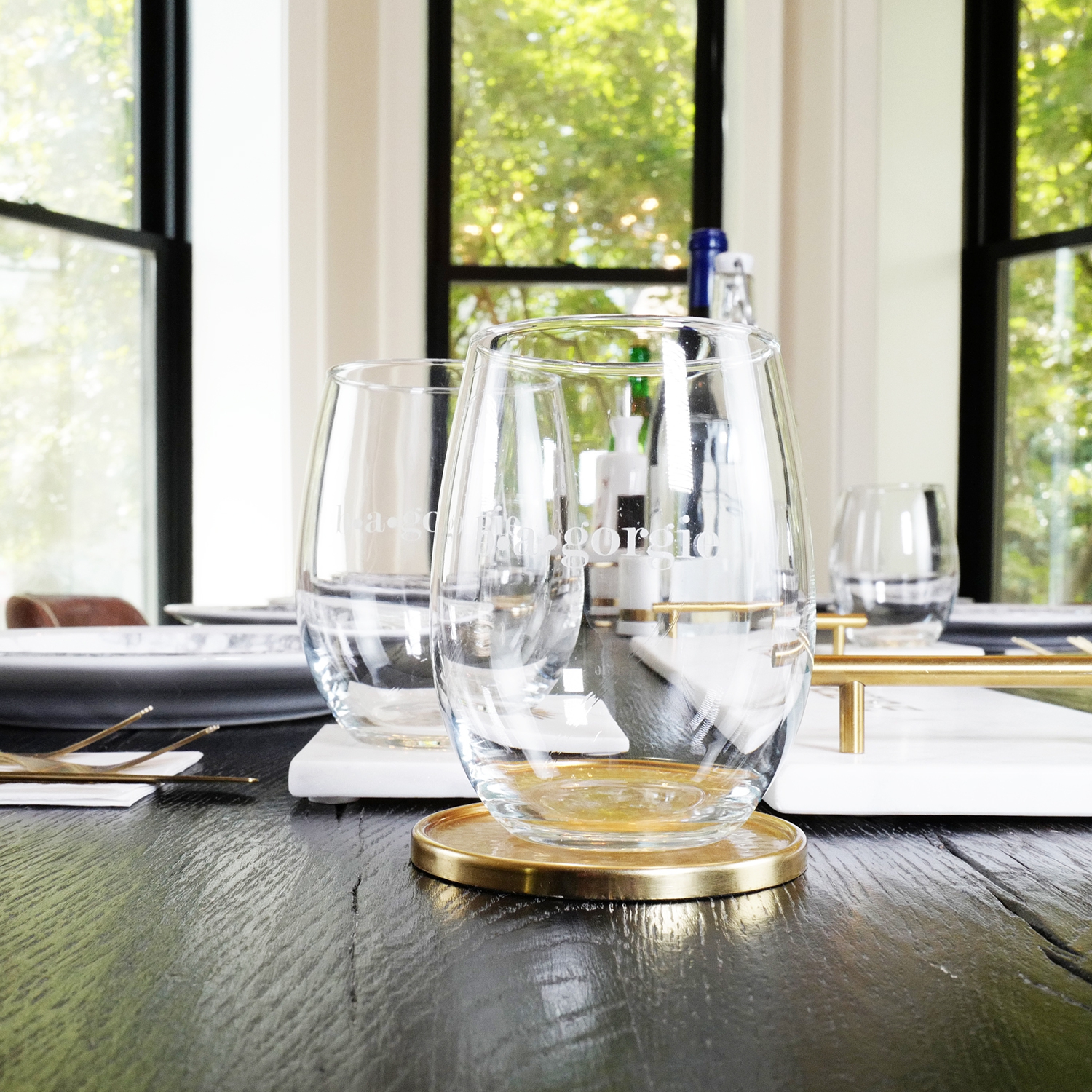 I have too many unique glasses to choose from - wine and champagne flutes, goblets, mason jar mugs, whiskey glasses, hand painted glasses and a wide variety of colors. I have a glass for every beverage - Even port sipping glasses! The one thing that changes on my table each occasion are the glasses.
For this neutral, trendy table setting, I'm using my personalized b.a.gorgie stemless wine glasses. I like stemless wine glasses, cause you can serve red or white wine, as well non-alcoholic beverages in the same glass.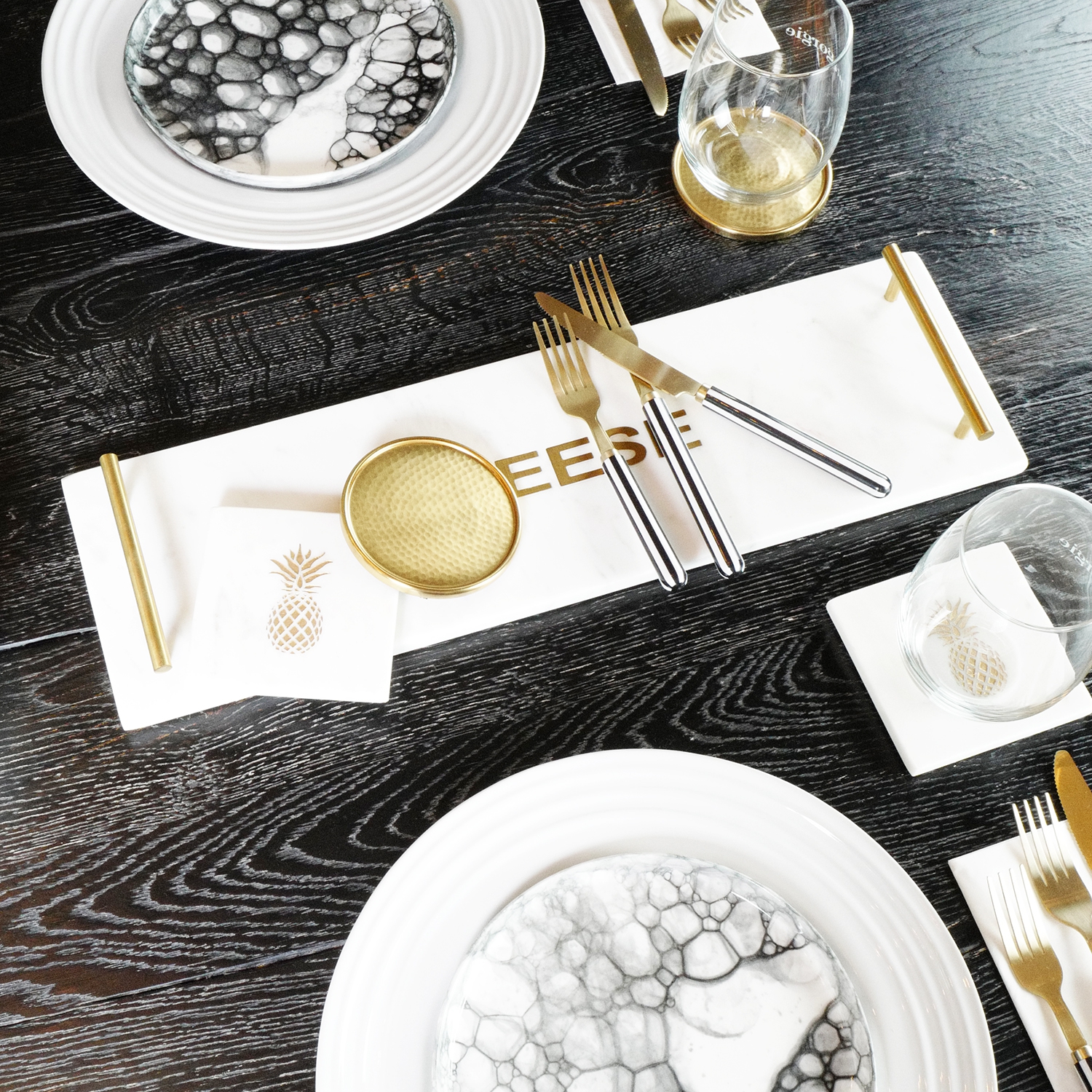 I love this marble and brass cheese board from William Sonoma. I think it's suitable for casual dinning or a formal setting. The handles make it easy to carry this heavy marble board. The brushed brass handles and "cheese" lettering give this board a modern vibe.
This witty cheese board started my obsession with white marble. I also purchased marble coasters with gold pineapples from William Sonoma. They're fun and combined with the marble cheese board, my trendy table has personality.
I also like to display mismatched coasters. These antique brass hammered coasters from William Sonoma are festive and standout. The antique brass matches the gold tones on my table perfectly.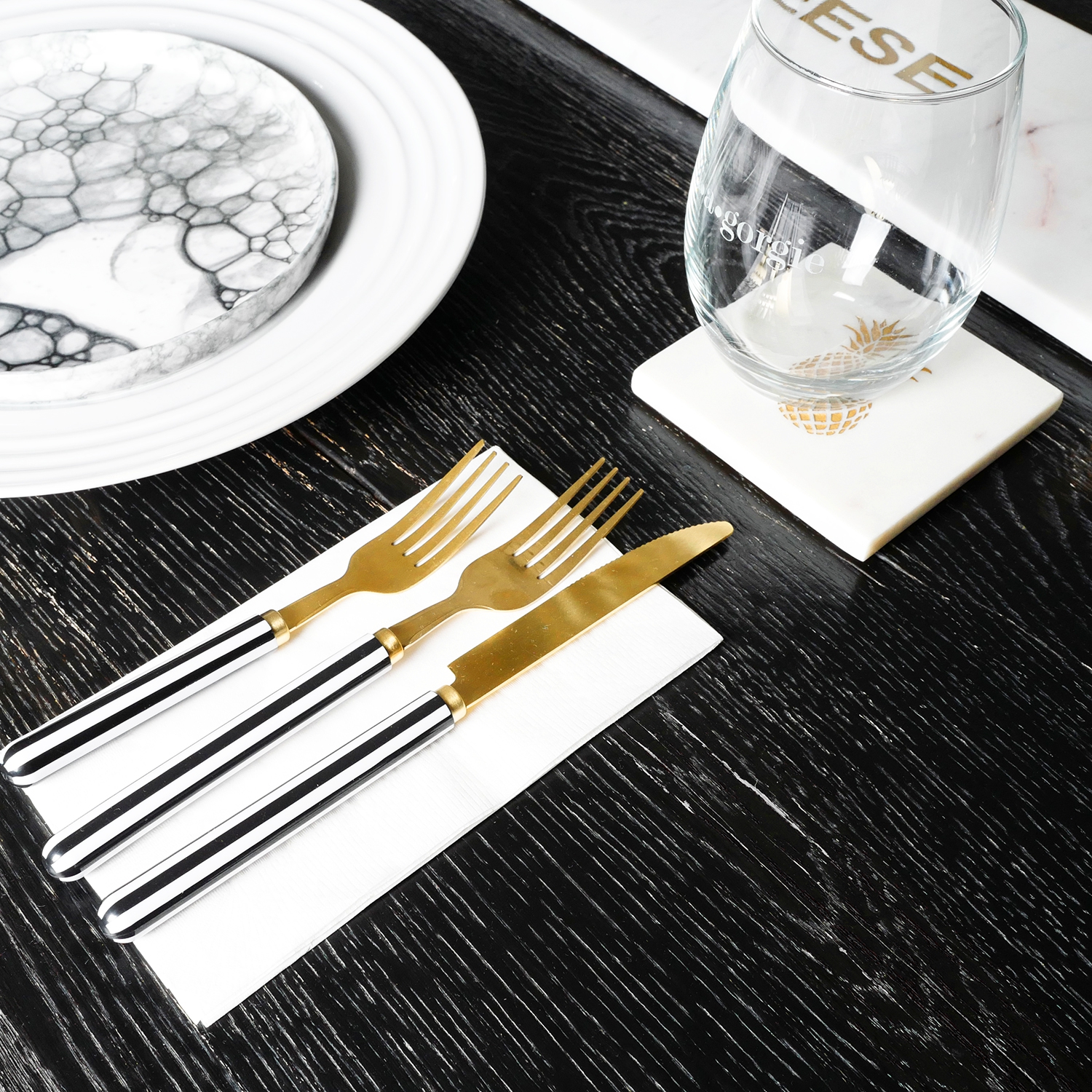 This CB2 flatware set prompted me to go with the black, white and gold theme. This Earl brushed gold and resin 20-piece set is modern and quirky. I love the pinstripe detail.
I'm considering to purchase a brushed black flatware set as well for casual dinning. This pinstripe and gold set is suited more for festive occasions.
This flatware set is super-light. I was hesitant to keep them, in fear that the light-weight would seem cheap, but the mixed material and contemporary look outweighed the lack of heft.
The CB2 vapor black and white salad plates placed on the Le Creuset dinner plates are intriguing and add a little texture to the setting. They are created by dipping porcelain into a white and black soapy glaze.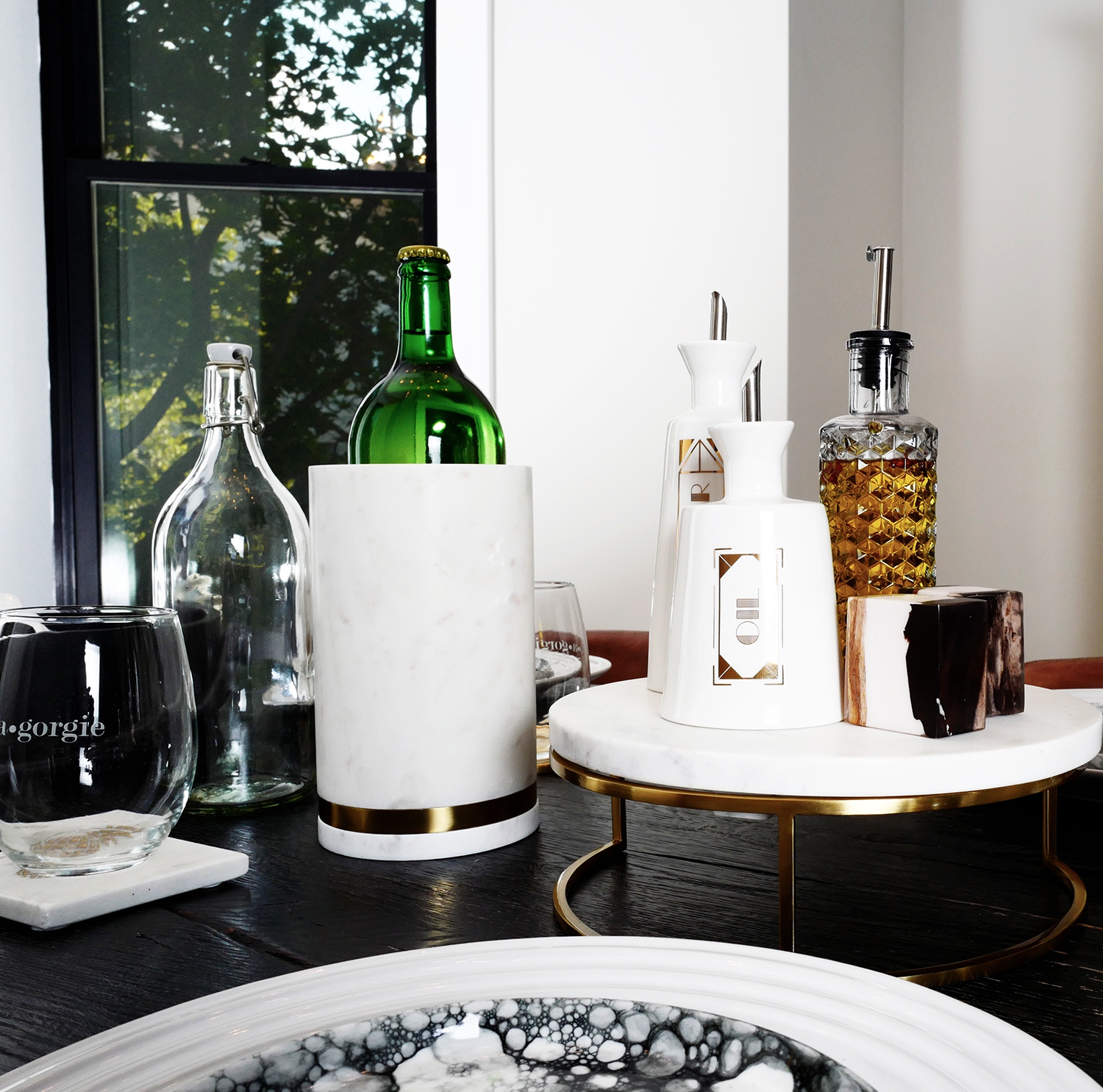 I can't go in to a CB2 store and not purchase something - it's the Sephora of decor. The in-store and online displays are inspiring. I purchased my center piece in-store. It is comprised of a petrified wood salt and pepper set, and oil and vinegar cruets atop of a marble and brass server.
I leave this display on my table at all times, or if I'm doing a charcuterie at the kitchen counter, I'll temporarily place it there.
The marble server floats on a sculptural gilded base, elevating the salt and pepper set and cruets. This CB2 marble server comes in two sizes. If you purchase both, you can place the small one slightly under the larger for a tiered display.
The porcelain oil cruet and vinegar cruet have a Gatsby-esque vibe and contrast nicely with the textured glass cruet. I combined oil and dry herbs, along with dried hot peppers in the glass cruet.
I also purchased a marble and brass wine coaster for red wine and a marble and brass wine chiller for the white wine. These wine holders are a stylish addition to my trendy table setting. They're also great for serving wine on my marble countertop - they protect the fragile marble.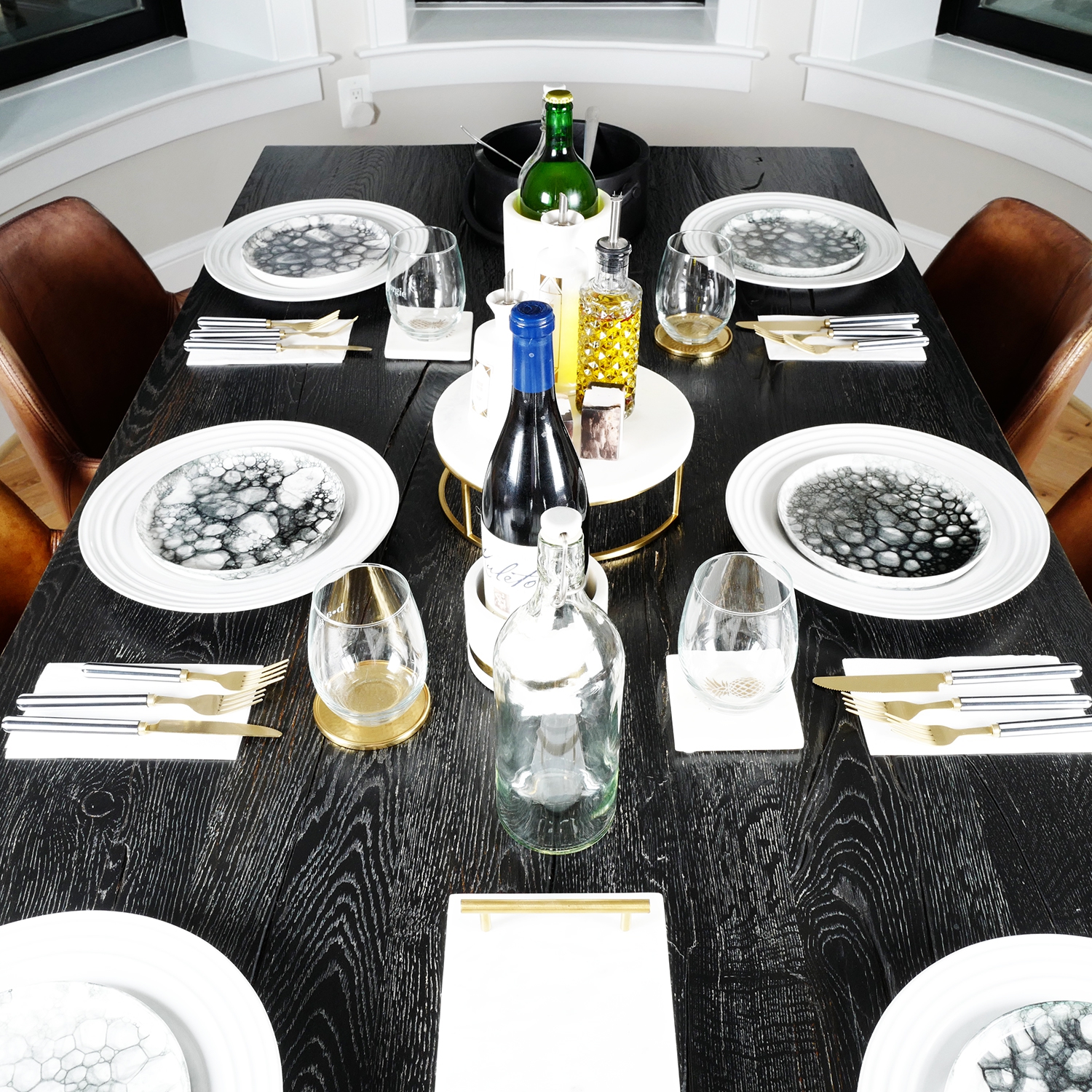 The Kuleto wine pictured above is not from Dry Farm Wines, but rather a long-time favorite red wine.
Always make sure to serve a pitcher of water. I place one or two (one on each side of my giant table) IKEA Korken bottle's with a stopper. Of course, I serve Evian water. YES, people can tell the difference between tap water and bottled water. You can also serve one still and one carbonated water.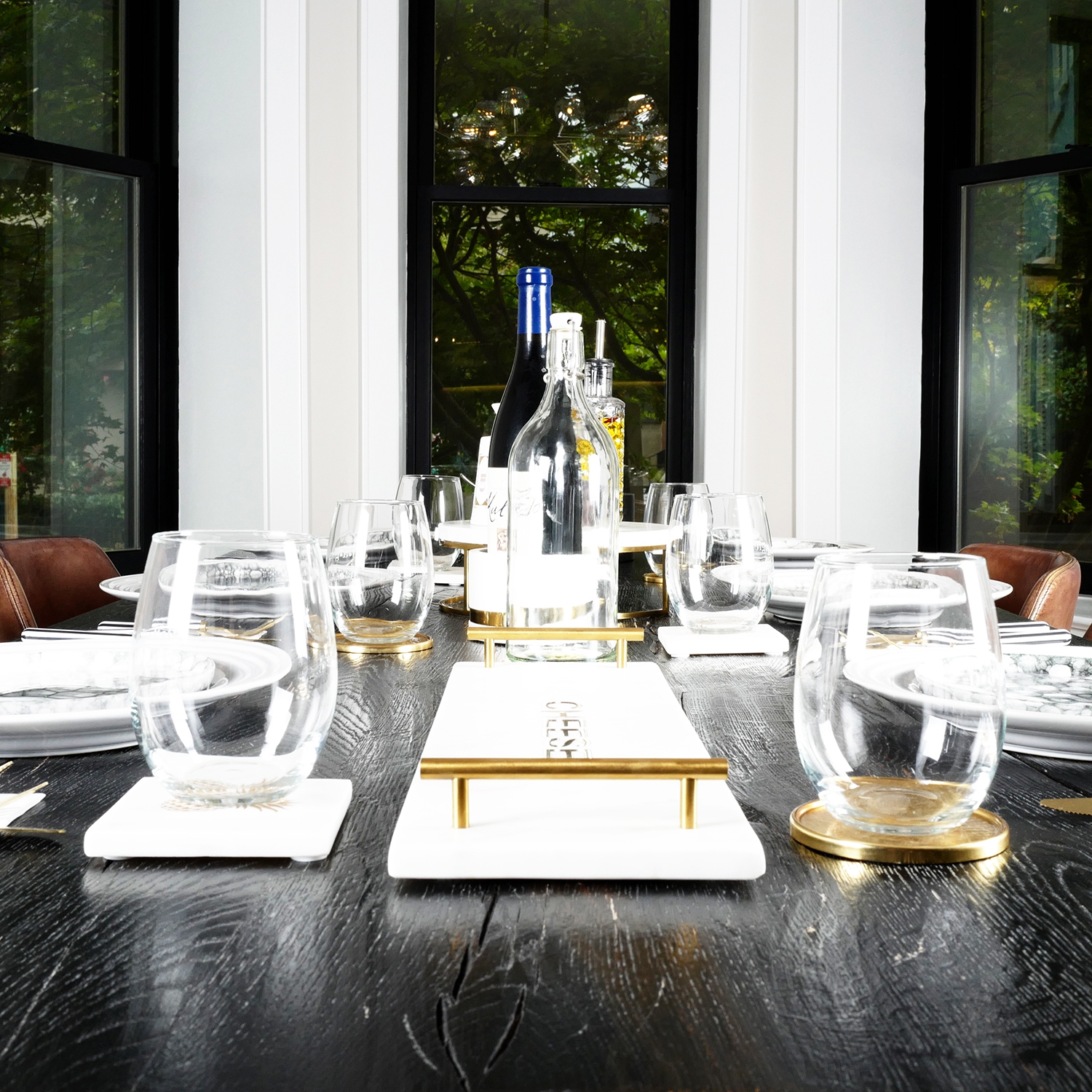 My go-to stores for this table decor were CB2 and William Sonoma. Other great decor and furniture stores that I frequent are Crate and Barrel and The Pottery Barn.
I had so much fun creating a trendy table setting. I had no idea shopping home decor would bring me so much pleasure - I kinda wanna create two different settings. Stay tuned..